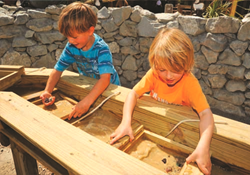 In a region where mountain biking is king, mining is part of the local history, and the abundance of hunting game, we are bringing that to life in the activities here at the resort.
Mt. Crested Butte, CO (PRWEB) April 18, 2015
One of the great things about living in a place with four seasons is the anticipation of the next season. In Crested Butte, this excitement is never ending. As the sun raises higher in the sky and temperatures rise, the resort is preparing for some new summer fun for bikers, families, kids, "miners" and even archers. Read on:
Evolution Bike Park
Each year, the Evolution Bike Park trail crew continues to work hard to build new trails, maintain existing lines and make the riding experience even better at Crested Butte Mountain Resort (CBMR). Late last year, crews finished a new green trail called Hotdogger that features berms, turns and rollers on a nice machine-made wide trail for those who appreciate having a little more room around them on a bike.
This summer, crews will build another blue intermediate trail near the current trail of Awakening. There will also be a new technical piece of trail off of the current Avery trail that will entertain the expert downhillers out there. This adrenaline filled addition to an already technical descent is slated to open July 1 and will move through big rock features. All three of these new sections will give gravity riders more diversity, different features and more miles to ride on the already existing 30 miles of single track.
One of the great things about the Evolution Bike Park is that it contains both downhill specific trails and cross country trails. This year, the Evolution Bike Park crew will partner with the Crested Butte Mountain Bike Association to build a section of trail that will connect the Bike Park's Westside Trail to the Upper Loop, an existing US Forest Service Trail that runs down to the town of Crested Butte; creating a single track connection between the towns of Mt. Crested Butte and Crested Butte.
Tin Cup Mining Co. – Family Mining Activity
In honoring Crested Butte's rich history in mining, kids can prospect for gems this summer at the new mining sluice; a 65 foot wooden structure where kids let the water wash over the sand and experience the fun of panning for treasures. With each Adventure Ticket, kids receive a one pound bag of dirt to mine through. What are they going to find? Additional bags of gems, arrowheads and fossils to mine will be available for purchase at the Crested Butte Rental and Demo Center and the Adventure Center.
Lift-Accessed 3D Archery Course
To align with the incredible hunting opportunities that the Gunnison Valley has to offer, CBMR is putting in a 20-target Archery Course at the top of the Red Lady Express for archers to practice their skills all summer long. Mule Deer, Whitetail Deer, Black Bear, Fox, Coyote and Rocky Mountain Elk will be set amongst the beautiful mountain landscape in a format that will appeal to all ability levels. The loop from the lift will cover a total of about one and a half miles and return archers to the top of the lift, where they will download back to the base area. The Mountain Adventures summer program will also be offering archery lessons to kids seven years old and up.
"In a region where mountain biking is king, mining is a part of the local history, and the abundance of hunting game, we are bringing that to life in the activities here at the resort," explains Nick Herrin, assistant general manager. "The summer season continues to grow tremendously for us at CBMR, so we are constantly looking for ways to enhance our products, while also being true to who we are in Crested Butte."
Summer operations at the resort open on June 13, 2015, a detailed schedule can be found at http://www.ridecb.com/lifts. For information about all of the activities and programs the resort has to offer, visit http://www.ridecb.com. And to inquire about the latest summer lodging deals, visit http://www.ridecb.com/deals.