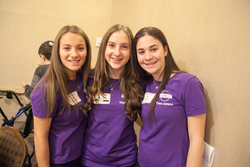 "DOROT is uniquely positioned to strengthen teens' ties to the Jewish community."
New York, NY (PRWEB) April 20, 2015
DOROT, a non profit on the Upper West Side in Manhattan, was awarded a grant to launch a new summer teen internship program that incorporates Jewish content into the program. Since DOROT began a summer teen internship program in 2001, over one thousand young people have benefitted from the wisdom of older adults at a time in their lives when teens often begin to consider the impact they will have in the world. The grant will enable DOROT to build on this model and create an opportunity for high school students to explore social justice and Jewish communal connections while volunteering and meeting older New Yorkers. The new second session of the Summer Teen Internship Program is jointly funded by UJA-Federation of New York and the Jim Joseph Foundation. The Jewish Education Project serves as lead operator of the Initiative.
The program will address a national trend of young people's drop in Jewish engagement.
Summer teen interns will build ongoing relationships with Jewish seniors through home visits, documentary film-making and teleconference discussion groups. In addition to the informal learning about Jewish history and values arising from these interactions, participants will explore Jewish concepts in discussion groups with the program's rabbinic student facilitator.
"DOROT is uniquely positioned to strengthen teens' ties to the Jewish community," explains Judith Turner, DOROT's Director of Volunteer Services. "DOROT's core educational model is interactions with older adults and we have found that our clients are the best teachers, storytellers and communicators about Jewish continuity and community."
"The new initiative creates a win-win situation," says Mark Meridy, DOROT's Executive Director. "It allows us to harness Jewish seniors' vast trove of knowledge for the benefit of a younger generation while preventing seniors from becoming isolated."
DOROT will welcome up to 18 participants when the new summer internship for Jewish teens debuts this summer. Applications are available online at dorotusa.org