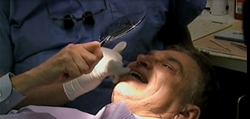 The key to health and safety in the dental restoration industry is transparency for both the dentist and the dental patient
Tallahassee, Fla. (PRWEB) April 17, 2015
Most dental patients are not aware that nearly 38 percent of dental restoration units are made overseas by foreign dental laboratories, according to the U.S. International Trade Commission. Additionally, domestic labs remain unregulated in more than 40 states by their respective state boards of dentistry.
The National Association of Dental Laboratories has created the "What's In Your Mouth?" campaign to raise awareness among patients about the consequences that could be associated with using poorly-made dental restorations created in unregulated labs.
Many patients assume dentist-prescribed restorations – such as dentures, crowns, fillings, bridges and others – are safe to use. However, often dentists are not the ones overseeing the manufacturing process. It is usually the dental technicians who actually create the restorations dentists give to their patients.
"The key to health and safety in the dental restoration industry is transparency for both the dentist and the dental patient," said Gary Iocco, co-chair of NADL's Public Awareness Committee. "Only a handful of states in the U.S. require a dental lab to disclose to the dentist the patient contact materials used in a restoration and further provide detailed point of origin information on who actually made the restoration. No state dental practice act requires such information be provided to dental patients. This is why we encourage patients to help themselves by asking their dentist some basic questions."
Patients have the right to know where their restorations are coming from and the qualifications of the business that made the restoration. Some basic questions that a patient can ask a dentist are:
1) "Is the dental laboratory you work with certified? And by whom?"
2) "Is the dental laboratory technician that made my restoration certified?"
3) "Where is the dental laboratory you work with physically located?"
4) "What patient contact materials were used in my restoration?"
"Consumers spend time considering the foods they consume and the tooth paste they purchase. Why not take the time to learn more about your dental restorations – often permanent fixtures that are inserted into one of the most sensitive areas of the human body." said Iocco. "Asking a few questions can make all the difference in your long-term health."
###
About NADL:
The National Association of Dental Laboratories is the unified voice of the dental laboratory profession supporting dentistry and serving the public interest by promoting high standards. NADL accomplishes this by providing programs, services and networking opportunities to meet the evolving technical, educational, professional and business needs of dental laboratories. http://www.nadl.org