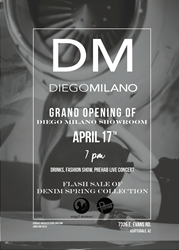 Scottsdale, AZ (PRWEB) April 17, 2015
Diego Milano opens their doors tonight at 7pm in North Scottsdale. For the first time, luxury denim company, Diego Milano, reveals their first showroom. The showroom on looks the production house where all of the manufacturing of the music inspired, artisan jeans takes place.
An informal fashion show will compliment DJ Mr. P-body's music and passed out hors-d'oeuvres by Creations In Cuisine Catering. The event is partnering with Angel Mamas donating $50 of every pair of jeans sold to the organization. They're also supporting local band, Prehab and a party bus will be escorting people at 10pm to Rock Bar for their CD release party.
The founder and Creative Director of Diego Milano, Chris Kay, will be attending. If you would like to interview the founder and designer please contact laura(at)diegomilano(dot)com for limited interview time slots.
For more details of the event and to RSVP:
http://www.eventbrite.com/e/diego-milano-denim-showroom-grand-opening-featuring-music-by-dj-mr-p-body-tickets-16361344221