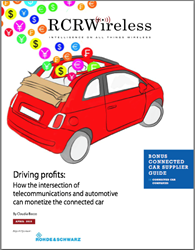 The business model is changing and the automotive OEMs can't go it alone - Claudia Bacco, RCR EMEA Director
Austin, Texas (PRWEB) April 20, 2015
There's a lot of talk in the industry as to how telecom players--operators and equipment vendors-- will or will not more closely align with automotive OEMs and tier one suppliers relative to connected vehicles. Are operators simply connectivity providers? Do OEMs become MVNOs? These topics and more are addressed along with the implications to the ultimate end user, the driver.
This latest report, "Driving profits through the intersection of telecom and automotive" reviews topics related to these industries coming together. Whether the telecom operators will be just connectivity providers or something more, the automotive OEMs need their help. It's not just about 'connecting' to the car, it's about what happens after this connection occurs and how do you offer services directly to the driver. The business model is changing and the 'car-as-a-service' will be a part of the discussion going forward. Most OEMs are not currently communicating directly with end users on an ongoing basis, certainly not offering services and issuing monthly bills. Twenty-one companies from the connected car market participated in interviews to help formulate the trends shared in this report.
Download this report to learn:

What are the implications for the intersection of the telecommunications and automotive industries?
Do these industries need each other for the connected car to succeed?
What are the opportunities for mobile operators and telecom equipment vendors?
What are the road blocks?
What does all of this mean for the end user, in this case, the driver?
Watch the complimentary editorial webinar featuring:

Claudia Bacco, Managing Director - EMEA, RCR Wireless News
Mark Rose, Head of Automotive, Consumer Electronics and SOBE, Vodafone Global Enterprise
Rob Hyatt, Director of Business Development, AT&T Mobility
Gavin Sugden, Divisional Director, GfK
"The business model is changing and the automotive OEMs can't go it alone," RCR Wireless News Managing Director – EMEA Claudia Bacco said. "With the likes of Google and Apple fast on their heels to stake claim to the driving audience now in the vehicle in addition to on the web, PC and smartphone, there's a lot of playing catch up to do. Who better than the telecom players to share their lessons learned and help the OEMs enable connected car and mobility services."
Download the report for free here.
About RCR Wireless News:
Since 1982, RCR Wireless News has been providing wireless and mobile industry news, insights and analysis to industry and enterprise professionals, decision makers, policy makers, analysts and investors. Our mission is to connect, globally and locally, mobile technology professionals and companies online, in person and now on video. Our dedication to editorial excellence coupled with one of the industry's most comprehensive industry databases and digital networks leads readers and advertisers to consistently choose RCR Wireless News over other industry publications. http://www.rcrwireless.com