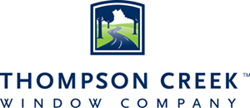 Lanham, Maryland (PRWEB) April 20, 2015
SPEAKERS: Larry Hogan, Governor of Maryland; Mike Miller, Maryland Senate President;, James Lighthizer, Chesapeake Real Estate Group; Rick Wuest President of Thompson Creek Window Company and Nicolas Majett, Prince George's County.
WHAT: Governor Larry Hogan joins Thompson Creek Window Company's Groundbreaking Ceremony for the initiation of construction of a new 117,000 square foot building housing manufacturing and warehouse operations. The $20 million project is being undertaken by Chesapeake Real Estate Group, a locally-based commercial real estate and development company, on the site of existing Murry's Steaks facility adjacent to Exit 4 of the Capital Beltway.
WHERE: 8300 Pennsylvania Avenue, Upper Marlboro, MD 20772
WHEN: Monday, April 20th 3:15pm – 4pm Groundbreaking Ceremony and Reception to follow.
WHY: The company plans to remain in Prince George's County and retain its existing 330 full-time employees and hire 150 new employees for a total of 480 permanent full-time employees at its various County locations by the end of 2021.
MEDIA CONTACT: Katie Sushko, KSushko(at)thompsoncreek.com, 410.271.1498
About Thompson Creek
The Thompson Creek Window Company is a privately owned and family-operated manufacturer and installer of energy-efficient home improvement replacement products. Founded in 1980, Thompson Creek Window Company began as a manufacturer of energy-efficient, maintenance-free vinyl windows. Since that time, Thompson Creek Window Company has evolved into one of the leading specialty home improvement contracting companies in the nation. The company's product mix includes replacement windows and doors and a clog-free gutter system. Thompson Creek Window Company is headquartered in Lanham, Maryland with an 80,000 square-foot manufacturing facility in Landover, Maryland. Thompson Creek employs over 350 people in the Washington D.C. region.