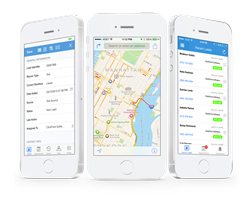 Scottsdale, Arizona (PRWEB) April 21, 2015
The mobile app can be downloaded from the Apple App Store and will be free for 14 days for anyone to take a trial without risk. The application is designed to give salespeople and managers in the field the ability to update and transfer leads, easily call new leads with one click, get time-sensitive sales notifications, and receive real-time directions to sales appointments.
"Our clients are spending more time away from the office and in front of their clients, at their home or office. We listen to our customers and have invested heavily in mobile applications that make it easier for our customers to manage their leads and close more deals away from the office. We want our customers to be able to close deals on the spot and not have to wait to get back to the office to update pertinent lead details," states Gabriel Buck, founder and CEO of ClickPoint Software.
ClickPoint focuses on the use of sales best practices and solutions to help improve the ability of an organization to close more deals from the leads it purchases and creates. By reducing software clutter and focusing on simplicity, ClickPoint improves adoption across sales organizations and call centers.
ClickPoint Software best practices include reducing contact time on new leads to less than one minute and ensuring that customers are responded to instantly and often throughout the inquiry to close process. Other key best practices include improving lead nurturing and distributing leads to the most appropriate sales consultants. Any company that acquires customers online and wants instant visibility into ROI from online marketing campaigns is able to benefit from use of the ClickPoint solution.
"We believe the ClickPoint iPad and iPhone lead management application built specifically with our sales process in mind will enable our sales teams and dealers to improve their ability to respond to customers who have sought out Culligan Water Treatment Solutions."
Ervin Rokosh – Culligan International
Founded in 2007 and located in Scottsdale, Arizona, ClickPoint serves both Fortune 500 companies and small businesses that acquire internet leads and phone calls. ClickPoint was born out of a desire to help companies get a better understanding of the complex process of lead acquisition and management from websites, landing pages, third party lead sources, and offline marketing. The company soon found many opportunities to automate the process of lead distribution for marketers. It wasn't long before it started helping sales organizations get more value from the leads they acquire as well. ClickPoint prides itself in providing a superior level of customer service while creating easy-to-use software designed to help drive more value from internet leads and phone calls.