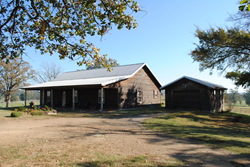 Both ranches offer excellent cattle working facilities, pipe corrals, multiple traps and truck access
KANSAS CITY, Mo. (PRWEB) April 21, 2015
Qualified buyers will have the opportunity to bid on several parcels from two ranches in Sequoyah County, Okla. The two properties will be offered in nine separate parcels, any combination of tracts or in their entirety.
Conducted by Craig Buford, auctioneer and broker with United Country – Buford Resources Real Estate & Auction, the live auction will take place at Sallisaw Potts Ranch Thursday, May 14. The auction will take place at 10 a.m. Both ranches will be available for viewing from 1 to 4 p.m. on Sunday, April 26 or by appointment.
"Our seller recognizes the value of using an accelerated method of marketing – in other words, an auction – to sell their property," Buford said. "What does this mean for buyers? It means they have the opportunity to purchase part or all of two great Oklahoma ranches at an affordable price. Today's market conditions and the auction format allow sellers and buyers to come to a meeting of the minds quickly with a competitively achieved fair market value. In times like these, an auction is the best way to establish what real market value is."
Both cross-fenced ranches are approximately 95 percent open with multiple ponds, shade trees and abundant grass. The average annual rainfall according to the National Weather Service is approximately 48 inches.
"This live event is truly a once-in-lifetime opportunity," Buford said. "Both ranches offer excellent cattle working facilities, pipe corrals, multiple traps and truck access. There is also great fishing, as well as deer and turkey hunting. These ranches could also serve as excellent stocker operations."
The individual ranches feature:
Sallisaw Potts Ranch – roughly 703 acres offered in five tracts

Directions to Sallisaw Potts Ranch: I-40 exit 308 Hwy 59 in Sallisaw, OK south on Hwy 59 1/10th mile to Lenington Road, then 2.2 miles west on Lennington Road to ranch headquarters.
Modular home
Mostly native grass
Water source – county water
Carrying capacity – currently 250 cow/calf pairs
Sallisaw Headquarters Ranch – approximately 402 acres offered in four tracts

Directions to Sallisaw Headquarters Ranch: From downtown Sallisaw, north on Wheeler crossing the railroad tracks 2/10th mile then east on CR 1070 5.3 miles to northwest corner of ranch, then south 6/10 mile to ranch headquarters.
Five-year old two-bedroom, two-bath ranch-style home with open floor plan, living and dining area, kitchen, utility room, bead board walls and tile floors
Water source – county water
Mostly native grass
Large metal barn/shop
Carrying capacity – currently 100 cow/calf pairs
Detailed information about the property for sale, as well as details about the auctions, can be found online at BufordResources.com or by calling 405-833-9499.
About United Country
United Country Real Estate – a division of the United Real Estate Group – is the leading, fully integrated network of conventional and auction real estate professionals. The company has been an innovator in lifestyle and country real estate marketing since 1925. United Country supports nearly 600 offices and 5,000 real estate professionals across four continents, with a unique, comprehensive marketing program that includes the highest ranked and largest portfolios of specialty property marketing websites, the largest real estate marketing services company, an extensive buyer database of more than 500,000 opt-in buyers and exclusive global advertising of properties.