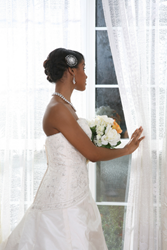 United States (PRWEB) April 21, 2015
A Tellwut online survey found that 55% of its panel members would purchase wedding insurance while 45% feel it's a waste of money. Wedding insurance covers basic necessities such as loss of deposit and incurred expenses due to canceled event if bad weather is a factor. It may also cover liquor liability, videography and photography, wedding day jewelry, as well as other big ticket wedding day items and expenses. Wedding insurance is not a widely known commodity, with only 39% of Tellwut online survey panel members ever having heard of it.
The financial lengths that some couples will go through for a picture perfect day, knows no bounds. A UK based company has begun offering a "clouding bursting" service which ensures clear skies for a day of matrimonial bliss. They do this by using a chemical called silver iodide to "seed" the clouds and cause them to rain. By inducing rain and cloud dissipation for 24 hours before the wedding day, the team can guarantee a relatively cloud free and sunny environment on the day of. The starting fee for this service is £ 100,000 (approximately 150,000 USD). Only 24% of Tellwut online panel members approve of cloud bursting.
While controlling weather patterns is something that we as a civilization might have in common with the folks of Orbit City, in the 21st century, it's no longer about keeping up with the Jetsons but more like keeping up with the Kardashians. Kim Kardashian and Kanye West spent an estimated $14.7 million dollars on their nuptials under the Tuscan sun, in Florence Italy. Both Kardashian and West are prolific social media users, with an estimated following of over 40 million people between the two of them. We asked panel members about celebrity culture and its impact on weddings. 66% of Tellwut online panel members feel that the popularity of wedding themed television programs such as Say Yes to the Dress and Bride Wars has contributed to the desire to host an opulent wedding event. Similarly, 69% of Tellwut online panel members feel that social media and the culture of 'over-sharing' has contributed to the desire of hosting deluxe weddings.
The national average for a US wedding is hovering around the $30,000 mark, keeping in mind that this figure is vastly inflated by the lavish lifestyle of the ultra rich. 85% of Tellwut online panel members think that this is not a reasonable amount with many members feeling that it was too much money to spend on a wedding.Even if money were no object 83% this online survey found that Tellwutters would still choose a small wedding over a large one. Some members shared the financial figures. EricLSF said, "Our wedding cost less than $5k and it was perfect. We had the money to do more and chose not to. In the end, we made more from monetary gifts than we actually spent on our wedding." However there were some panel members who thought that no expense should be spared, Pokergirl84 simply said, "It was about 35k; no lie it was elegant and elaborate."
About Tellwut®
Tellwut is a North American online forum of individuals dedicated to expressing their opinions through online surveys based upon a wide variety of topics in exchange for rewards and the Tellwut community experience. The Tellwut community and proprietary online survey and reward software application provide a platform for organizations to send surveys to their stakeholders or to crowdsource and conduct online market research through the use of the Tellwut survey platform and the Tellwut Community, thus allowing organizations or individuals a clearer understanding and insight into their market research projects, thesis, products, services, customer sentiment and potential business opportunities.