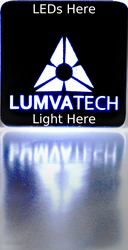 We are now preparing for the upcoming 2015 standard revision of ISO9001 including risk, change, and knowledge management.
Anderson, SC (PRWEB) May 06, 2015
Lumvatech announces today the completion of recertification to ISO9001 standard 2008 today. The audit was completed April 20, 2015. The on site audit involved all phases of the organization. The goal of this re-certification was to conform to the existing 2008 standards while preparing to meet the upcoming 2015 standards.
The audit was completed with external consultant NQA-USA. NQA-USA representatives met on site at Lumvatech in Anderson, SC. Alan MacDonald, Director of Operations, filled the management representative role with support from Kyle Spahr, Quality Manager, Aaron Meltzer President, and Martin Proctor Director of Marketing.
"All phases of the recertification went well" stated Mr. MacDonald. "The audit was comprehensive but our preparation and focus allowed a clear path to re-certification."
The ISO 9000 family of quality management systems standards is designed to help organizations ensure that they meet the needs of customers and other stakeholders while meeting statutory and regulatory requirements related to a product. ISO 9000 deals with the fundamentals of quality management systems, including the eight management principles upon which the family of standards is based. ISO 9001 deals with the requirements that organizations wishing to meet the standard must fulfill.
Third-party certification bodies provide independent confirmation that organizations meet the requirements of ISO 9001. Over one million organizations worldwide are independently certified, making ISO 9001 one of the most widely used management tools in the world today.
About Lumvatech
Lumvatech is a leading U. S. based manufacturer of ultra thin planar light panels for LED backlighting. Custom thin solutions for backlighting of POP displays and signage, logo nameplates, and human machine interfaces with dome, membrane, and touch switches. Lumvatech products are available to the HMI manufacturing and advertising production channels exclusively. To gain additional information please see http://www.Lumvatech.com or send an email to sales(at)lumvatech(dot)com. For a review of Lumvatechs product portfolio see our Lumvatech channel at youtube or follow Lumvatech on Linked In.
CLICK HERE to read about NQA-USA