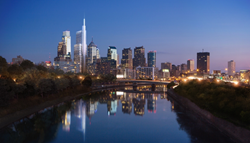 Morristown, NJ (PRWEB) April 21, 2015
Schindler Elevator Corporation has been awarded a multi-million dollar contract by L.F. Driscoll Construction Managers & Builders to supply and install 31 gearless Schindler 7000 high-rise elevators at Comcast Innovation and Technology Center, along with 11 mid-rise machine room-less elevators, two Schindler 330A hydraulic elevators, and 10 Schindler 9300AE escalators.
The $1.2 billion, 59-story structure, in the Center City section of Philadelphia, will be a vertical stacked campus that includes 1.3 million square feet of office space and a 222-room Four Seasons Hotel.
Once complete, the 1,121-foot tower will be the tallest building in the United States outside of New York and Chicago, as well as the largest private development project in the history of Pennsylvania.
"The Comcast Innovation & Technology Center is a prime example of the integrated, sustainable urban environments that Schindler is so proud to support," said Greg Ergenbright, president, Schindler Elevator Corporation. "Schindler's proven commitment to safety, reliability and sustainability, and our innovative technology makes us an ideal choice for this cutting-edge building."
The Comcast Innovation & Technology Center is owned by a partnership of Comcast Corporation and Liberty Property Trust, and is being developed by Liberty, and was designed by renowned architect Lord Norman Foster of Foster + Partners. The Comcast Innovation & Technology Center is currently under construction, slated to be completed in the first quarter of 2018.
Intuitive Technology Provides Personalized Mobility
Moving occupants more efficiently throughout the tower and hotel will be the energy-efficient Schindler 7000 custom high-rise passenger elevators equipped with Schindler's PORT Technology destination-dispatch system. The system has a two-way communication interface between occupants and the building's environment and optimizes traffic flow while offering predictive call entry and personalized service. The PORT Technology's patented access control uses RFID technology to play a significant role in managing and controlling access within the building.
Energy Efficient Design
Schindler 7000 can improve building efficiency by:

Using permanent magnet motors and Power Factor 1 drives which reduce energy consumption by up to 35% and produce less heat than traditional drives
Re-generating energy back into the building's electrical system
Using recovered energy to power other building demands such as lighting, air conditioning or other equipment.
Schindler 9300 AE escalators save energy by:

Utilizing high-efficiency motors and variable frequency drives
Implementing energy- saving options which can help generate savings of up to 20 percent.
About Schindler Elevator Corporation
Schindler Elevator Corporation is the North American operation of the Switzerland-based Schindler Group, a leading global mobility provider with approximately 54,000 employees operating in more than 100 countries. Schindler supports sustainable urban development with safe, reliable and ecologically sound mobility solutions and its equipment moves one billion people every day all over the world. For additional information about Schindler Elevator Corporation, visit the company's Web site at http://www.us.schindler.com.