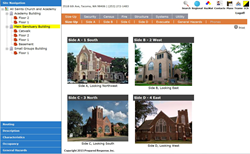 Implementing increased security measures for a place of worship does not have to challenge the welcoming atmosphere that has been created for the congregation.
Tacoma, WA (PRWEB) April 21, 2015
Prepared Response, Inc. is offering a complimentary webinar on Thursday, April 23, 10am - 11am PDT providing safety best practice information and a system demonstration of Rapid Responder for places of worship. All participants will be entered to win a 1.5 hour safety and security consultation.
Attend this webinar and gain information on access control for church grounds, creating safety teams, how environmental safety plays a role in your safety efforts, and using Rapid Responder® with the shared best practices. Participants also have the opportunity to win a 1.5 hour safety and security policy consultation with Crime Prevention Officer, Principle & Co-Founder of Strategic Consulting Solutions – LLC, Jim Caauwe, to get first hand tips and best practices on keeping their church or place of worship safe for their congregation.
Industry expert and webinar leader Jeff Hicks says, "Topics discussed will include security issues facing the modern church, easy and practical steps to improve grounds security and how to use the latest church security software to plan for potential emergencies. There will also be an opportunity to win consulting services from one of the foremost church security experts in the nation, Jim Caauwe."
Space is limited for the webinar so all participants are encouraged to register early to reserve their spot. The winner of the safety and security consultation will be announced the following day, April 24. Sign up today.
Rapid Responder puts critical building and site information at the fingertips of first responders, saving valuable time when every second counts. The system can be accessed via the internet, installed on a laptop, stored encrypted on a USB drive, and/or iPad App. The emergency response and crisis management system has been used successfully in active shooter situations, bomb threats, lock downs and other emergency situations, across sites such as schools, hospitals, places of worship, and government buildings. It is currently deployed in over 16,000 facilities nationwide.
MEDIA CONTACT
FOR FURTHER INFORMATION, PLEASE CONTACT:
Prepared Response, Inc.
Samantha Caron
scaron(at)preparedresponse(dot)com
253.363.8561
ABOUT PREPARED RESPONSE, INC.
Prepared Response Inc. is the leading innovator of emergency preparedness and crisis management solutions in the nation. For over a decade, Prepared Response has provided industry leading technology and consulting services that have been proven to save lives and mitigate property damage. The company's flagship product, Rapid Responder, is used by over 1,200 public safety agencies nationwide and is SAFETY Act Certified by the U.S. Department of Homeland Security as a Qualified Anti-Terrorism Technology, along with being endorsed by the National Sheriffs' Association. Rapid Responder is currently deployed in educational facilities, public buildings, critical infrastructure and private facilities across the U.S.
The privately held company is headquartered in Kirkland, Washington. Additional information can be found at http://www.preparedresponse.com or by calling 1-866-862-7741.