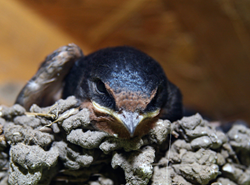 It is important to install swallow bird deterrents before the birds begin to build their nests!
Irvine, CA (PRWEB) April 22, 2015
Bird B Gone, the leader in bird control products for commercial, industrial and residential applications now offers a full line of bird deterrent products for controlling swallows.
Two Types of Swallows Coming
Swallows will soon be arriving to warmer cities and neighborhoods, looking for places to build their mud nests. In the U.S., two types of swallows cause problems for property owners. Cliff swallows build gourd shaped nests, with an inner lining of grass, hair and feathers. These nests are built on natural or vertical walls, often around freeways, bridges, barns and other large buildings, with a shelter or overhang. Cliff swallows nest in colonies that may contain as many as 500 nesting pairs. Barn swallows nest in single pairs and construct cup shaped nests, with an inner cup lined with grass, hair and feathers. Their nests are almost always built on eaves, bridges, docks and other man made structures that have a ledge to support the nest, a vertical wall to which it can be attached and a roof. While their nests may be different, both cliff and barn swallows create a number of costly problems for property owners.
Swallows Create Many Problems
Bird control experts are advising property owners that unless they are prepared for the annual arrival of swallows with effective bird deterrents, they can expect to see their walls, eaves and fences covered with unappealing mud nests. Swallow nests can damage, deface and stain the surfaces they are built upon. In addition, swallow droppings and urine can extend down walls and cover the ground beneath nest sites. The bacteria, fungal agents and parasites found in swallow droppings often contain such serious diseases as histoplasmosis, encephalitis, salmonella, meningitis, toxoplasmosis and more. Wet bird droppings on walkways can even create slip-and-fall hazards.
The Solution: Proactive, Humane Bird Control
The best away to keep swallows off property is to implement swallow deterrents before the birds arrive. Once they start building their nests, it is nearly impossible to get rid of them. Swallows are tenacious birds and will continue building nests if the spot is ideal for them. Property owners are advised not to use water hoses or brooms to get rid of swallows and their nests. Swallows are protected by the Migratory Bird Treaty Act of 1918, so it's illegal to intentionally capture, kill or disrupt these migratory birds or their nests and eggs. Doing so can result in fines. Bird B Gone's full line of swallow deterrents addresses these problems, humanely and effectively.
Bird SlopeTM -- the Humane, Aesthetic Swallow Deterrent
Bird B Gone's Bird Slope panels provide the aesthetic deterrent many property owners need to get rid of swallows. When these smooth, slippery PVC panels are mounted at an angle on eaves, ledges, I-beams and parking garages, they create a "no-landing" zone for even the most determined swallows. Try as they may to land on the slope's angled surface, swallows harmlessly slip and slide right off. After a few unsuccessful attempts, even the most stubborn bird will give up and move on.
Bird Slope panels are easy to install on open eaves, ledges, I-beams and parking garages—virtually any 90-degree nook and cranny where pest birds have become a problem. The panels come in 4-foot long sections and 48 feet per box. They are easily screwed, glued or nailed to any flat surface. Handy "snap on" extender makes it easy to adapt the panels to ledges as wide as 10 inches. (Without an extender, the basic bird sloped panel can protect a 6-inch wide ledge.) Special mounting clips allow the panels to be easily installed vertically on the sides of buildings. Also available are "end caps" to prevent birds from getting behind the panels. A glue trough on the underside of each panel allows for easy installation using standard outdoor polyurethane adhesive. To blend in with a building's color aesthetics, Bird Slope panels come in two colors—stone and grey. Each panel is fabricated of UV-protected PVC material for lasting durability in hot sun and harsh weather.
Creating a Bird Barrier with Garden Netting
Creating a physical barrier that won't allow swallows to build nests under eaves and other elevated areas, Bird B Gone's Garden Bird Netting is light, easy to handle and virtually invisible. It's available in 14 x 100-foot and 14 x 200-foot rolls and can be easily trimmed to the size needed. The netting comes in various mesh sizes (the 1/2" or 3/4" mesh is recommended for best swallow control). The netting is easily installed under eaves, patio covers and other areas. Although designed for temporary use, Garden Bird Netting is quality made from durable, UV-protected polypropylene to resist sun and weathering.
Bird Net 2000 for Larger Commercial Areas
For larger commercial or industrial areas, Bird B Gone offers Bird Net 2000. This heavy duty polyethylene net provides an efficient and effective method for excluding swallows. Designed to meet ISO 1806 & 9001 Protocol Mesh Tests, this netting creates a physical barrier to prevent birds from landing or nesting. The black netting carries an industry leading guarantee of 10 years. Bird B Gone offers a complete line of professional-grade installation hardware to suit any job and can assist with design and installation. Bird Net 2000 is the number one netting specified by architects. It is UV stabilized, rot proof, water proof, sub-zero stable, and flame resistant with a 250-degree melt point. Stock sizes and custom cuts are available in 200-foot lengths or widths. Available in three colors to blend in with the area of installation, once installed the netting is virtually invisible.
No Nasty Nest Swallow Deterrent
This simple-to-install swallow deterrent uses hanging "twine" to block birds from entering and nesting in eaves, awnings, gables, canopies and other openings. Faced with the daunting task of working through a gauntlet of twine strips, swallows will simply move on to a better nesting spot. Virtually invisible from the ground level, each No Nasty Nest Kit contains two 3" x 11' sections that are hung from a clear plastic plate with a self-adhesive back for quick attachment to eaves, canopies, awnings, gables, entryways and other areas where birds try to enter. Pre drilled holes are provided that allow the sections to be nailed into place. No Nasty Nest can be installed temporarily or permanently.
Bird B Gone is the world's largest manufacturer and distributor of bird control products, providing effective and humane solutions to a bird-free environment. The company provides advice, training and installation services for those who need help with these and other bird control measures.