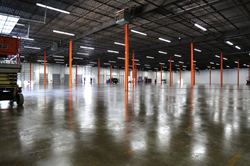 Vienna, Va (PRWEB) April 22, 2015
On April 10, LaserShip relocated their small package sortation center in Bristol, Pennsylvania to a facility more than double the size in Paulsboro, New Jersey. Previously, their Bristol location doubled as a sort and delivery facility. Separating the two facilities will boost LaserShip's network delivery capacity.
"The relocation is a part of our infrastructure growth strategy that will increase our capacity and enable continued flexibility for our e-commerce shipping partners," said Josh Dinneen, Senior Vice President of LaserShip. "The future of e-commerce is bright; we're staying nimble and executing our vision to support the increasing demand."
LaserShip began operations out of their Paulsboro sort center on April 11 and is the largest of LaserShip's four sort centers. The new center has double the amount of dock doors and a secure staging yard with space for 26 trailers. This move enables LaserShip to improve their throughput and the center will ultimately handle over 12,000 packages per hour.
Media Contact:
Isabel Del Canto
PR(at)LaserShip(dot)com
(703) 761-9030
About LaserShip, Inc.:
Founded in 1986, LaserShip is a regional parcel carrier facilitating last mile delivery to the eastern U.S. for businesses that desire reduced transit times, greater flexibility, and the elimination of excess costs within their supply chain. LaserShip has evolved into a leading provider of same-day and next-day delivery services for premier e-commerce and product supply businesses. For more information, visit lasership.com.