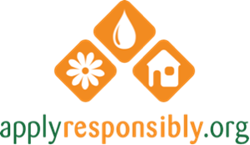 Our new online tool is in keeping with our continued efforts to educate homeowners on the proper handling of pesticide products
Sacramento, CA (PRWEB) April 22, 2015
Just in time for Earth Day, Apply Responsibly is pleased to announce the unveiling of its newly redesigned website, featuring a new tool developed to help homeowners responsibly dispose of their old and unused pesticide products.
The revamped Apply Responsibly web site features a new pesticide drop-off online tool to provide homeowners with an easy way to find pesticide disposal sites near them. By typing in their zip codes, homeowners can quickly obtain in-depth information on location and hours of facilities, neighborhood collection programs and exact requirements for disposal.
"All unused pesticide products should be disposed of properly at an official pesticide drop-off location," said Ann Orth, spokesperson for the program. "Our new online tool is in keeping with our continued efforts to educate homeowners on the proper handling of pesticide products."
To find a disposal facility nearest you, visit http://www.applyresponsibly.org and simply enter your zip code into the disposal tool.
In addition to the launch of the Apply Responsibly website, Earth Day also marks the program's seventh year of educating homeowners about the proper use of pesticides around their homes.
"We created the Apply Responsibly public awareness campaign to encourage environmentally responsible practices among California gardeners and homeowners who use pesticide treatments to eliminate pests," said Orth. "With the creation of the new website, we hope to make it easier for people to handle pesticides properly, including their disposal."
Since 2008, the Apply Responsibly has educated millions of California gardeners and homeowners on the proper use of pesticides. Homeowners and gardeners can visit the Apply Responsibly website to find tips, videos and resources surrounding the safe handling, storage and disposal of pesticides.
"Pesticides should never be poured down any drain, allowed to mix with water runoff, or stockpiled in a garage," said Orth. "We're hoping that Earth Day will serve as a reminder to everyone to be considerate of their environment overall."
Apply Responsibly reinforces many existing guidelines and established practices, including recommendations that consumers:

Only apply pesticides to the identified problem areas
Don't treat entire driveways, patios, sidewalks or similar outdoor surfaces
Use, store and dispose of unused pesticides according to the instructions on the product label
Don't overwater and don't allow water runoff into gutters, in-lawn drains or storm drain when watering treated areas
Dispose of unused pesticides according to the instructions on the product label
"Over the years, Apply Responsibly's messages have reached millions of Californians through print, radio and advertising," said Orth. "The launch of the new website provides another avenue to inform Californians in urban areas of the environmentally responsible ways to use home and garden pesticide products."
# # #
About Apply Responsibly
Apply Responsibly is a public awareness program funded by the Pyrethroid Working Group.
Through http://www.applyresponsibly.org and other educational materials, the industry alliance promotes the responsible use, storage and disposal of pesticides commonly used in the garden and outside home as a way to help protect California's water and environment. The Pyrethroid Working Group is comprised of following companies: AMVAC Chemical; BASF Corporation; Bayer CropScience; Cheminova, Inc; FMC Corporation; Syngenta Crop Protection; and Valent BioSciences Corporation.