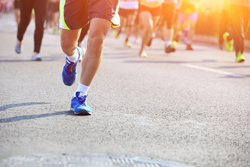 While treatment and recovery are often portrayed as more of a sprint than a marathon, the experience of many families has shown us the need for ongoing professional and community support in order to sustain recovery
Manchester, New Hampshire (PRWEB) April 22, 2015
WestBridge Center for Integrated Treatment of Co-occurring Disorders, with locations in Manchester, New Hampshire, and Brooksville, Florida, has kicked off a yearlong marathon-themed campaign to educate and support families who struggle with the co-occurring problems of mental illness and substance use disorder. Because recovery is a journey that requires preparation, training, encouragement and ongoing support, the marathon theme accurately symbolizes the process WestBridge offers. The professional staff at WestBridge facilities understands the fatigue and discouragement that families often experience as they struggle to find a solution for loved ones with mental health issues and substance use disorders. The campaign is intended to highlight the importance of teamwork and collaboration in helping individuals and families succeed in their marathon of recovery.
"At WestBridge, we recognize that when a loved one has a mental illness and substance use disorder, the journey to recovery can seem like a marathon to that individual and his family," said Mary Woods, CEO at WestBridge. "While treatment and recovery are often portrayed as more of a sprint than a marathon, the experience of many families has shown us the need for ongoing professional and community support in order to sustain recovery."
The yearlong campaign will launch on Mother's Day, May 10, 2015. The 2015 WestBridge Marathon campaign recognizes the isolation and vulnerability of families in which a loved one is facing mental illness and substance use disorders. Through WestBridge's support and community care, families are finally able to focus on healing and participants meet with open doors to opportunities that may not have been possible before. It's a story of hope and family-centered community where WestBridge serves as a "safety-net" for these individuals as they are on the path to balance and recovery.
"Our goal is to reach other families who feel they are alone in their journey. Part of our campaign includes continuing our work to help end the stigma of mental illness and substance use disorders. We want to draw attention to the role of a supportive community like WestBridge in helping the family heal and find balance. They're not alone. We're here to join them in that marathon, reach that finish line, and continue on to a healthy and fulfilling life in which they still have the community support they need.
WestBridge is a national leader in providing treatment for adult men with co-occurring mental illness and substance use disorders. The entire recovery process for both conditions takes place at the same location with the same team at the same time, thereby increasing consistency and opportunities to build trust. By including family members from the time of initial screening through aftercare, WestBridge supports the philosophy of ongoing commitment to the welfare of everyone in the family.
The Family Education and Support Program keeps everyone informed about the clinical and social progress of the participant. The staff knows that recovery is not a short-term, open-and-closed process and that families are the heart of any success story. WestBridge doesn't just accept a participant; they embrace the whole family. In addition to offering Family Weekends of Hope, WestBridge provides a comprehensive Family Education and Support program, an evidence-based practice that helps families learn about mental illness and substance use disorders, practice problem-solving skills, and develop communication skills that support long-term recovery. Helping families understand how their loved one is suffering with addiction and mental illness is an active contributor towards the participant's wellness.
"If you have almost any kind of heart disease or hypertension or diabetes, these are things one lives with for years," said Dr. Bob Drake, Medical Director of Dartmouth Center for Evidence-Based Practices and a WestBridge consultant. "It's not like having a bacterial infection where you take an antibiotic, and it cures the infection and that's it. Yet a lot of our mental health and health care system are based on the infectious disease model, even though that doesn't apply to more than 90 percent of the illnesses that we try to take care of. Virtually all mental health and addictive illnesses are long-term illnesses. One might get sober, but we know once you have developed an addiction, your brain is changed for the rest of your life probably. You need to be aware you always will be vulnerable to addiction. Most people will have lapses or relapses over the years, so we think, just like taking care of your diabetes, it makes sense to maintain some kind of treatment or self-help or peer support connection for years to make sure you continue to manage the disease so that you can live your life without the disease taking over again."
About WestBridge
WestBridge is a private non-profit organization dedicated to supporting the recovery of individuals and families that experience co-occurring mental illness and substance use disorders. Our services are designed according to evidence-based practices that were developed through research on co-occurring disorders, and all interventions are tailored to meet the unique needs and strengths of individuals and their families. At WestBridge, we provide a fully integrated continuum of services including residential services, community-based care and Family Education & Support, to help individuals and their families achieve a healthy life of recovery. Call us today at 800.889.7871 for more information, or visit http://www.westbridge.org.