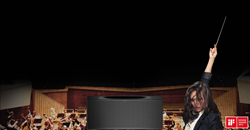 It's All About The Performance.
San Francisco, California (PRWEB) April 22, 2015
It's all about the performance with Monster's breakthrough in multi-room audio, and it's now available at Best Buy stores.
Monster, creator of Beats headphones, presents "SoundStage", a dual wireless audio system that makes whole house integration simple and seamless with controls built right into your smartphone.
Monster's engineers create a rich, complex, and full sound by pairing newly designed front drivers with rear-firing, high-powered bass drivers. Monster used software algorithms synthesize a larger sound stage than the minimal design would suggest.
SoundStage, available now at select Best Buy stores, is something that must be seen and heard to be appreciated. Pairing sleek, slim design with a minimal footprint, the SoundStage creates an ideal platform for all audio.
Head Monster Noel Lee noted: "We chose the name 'SoundStage' because that is exactly what it does – it creates an ideal soundstage for your music, whether you're streaming from your phone to the single speaker in a room or to multiple rooms around the house, the SoundStage provides incredible sound with plug and play simplicity."
SoundStage offers a free app for your smartphone. The app, when paired with the Soundstage's dual Bluetooth and WiFi connectivity, creates a platform that allows you to stream music from any device. The mobile app allows the user to access every device connected to the WiFi network to collaboratively build playlists and then control the feedback from one place.
The SoundStage also offers three standard inputs including:

Fiber Optic Digital (TOSLINK) for TV audio
Standard USB Charging Port for all mobile devices
3.5mm mini Stereo Audio Input that's compatible with virtually all of today's music devices
About Monster:
For the past 35 years, Monster® has been a catalyst for innovation and big ideas. Discovering that cables in hi-fi systems influenced the sound, Head Monster Noel Lee developed Monster Cable - an immediate hit. Monster® engineered the sound of Beats® headphones, and has since become the world's leading manufacturer of high-performance headphones, all featuring Pure Monster Sound™ technology. Today, the company offers advanced connectivity solutions for professional musicians, home entertainment, computing, mobile and gaming, as well as high performance AC Power and conditioning products. Monster® continues to lead in innovation with Monster having been granted over 500 patents and 100 patents pending worldwide, offering more than 5,000 products in over 160 countries. Monster® also prides itself in helping those who are in less-than-fortunate circumstances through Monster Cares. Above all, Monster® does what it does Because The Music Matters.