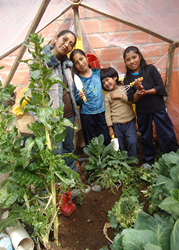 When you produce eggs and vegetables you don't have to buy them at the market anymore. Now, I don't have to beg for a few cents just to prepare a soup that didn't even have the necessary nutrients for my children.
Kansas City, Kan. (PRWEB) April 22, 2015
Humans are the most polluting species on the planet. The average American produces more than 4 pounds of waste every day.
And pollution doesn't just impact the environment; it affects people too, especially those living in the developing world, who are often the most vulnerable to the effects of pollution and climate change.
But there is a solution to reducing our carbon footprint and it starts with small lifestyle changes. It relies on all of us working together to undo the damage.
Many families in the Unbound sponsorship program are now taking small steps to improve community health and restore the environment.
Maria, a former sponsored child through Unbound, is pursuing an environmental studies degree at an American university. When she graduates, she plans to return to Guatemala and work for an organization helping to clean up Lake Atitlan.
Maria has just been chosen for a summer internship where she will monitor Lake Atitlan's ecology during in Guatemala with a government institution leading environmental programs to protect the lake.
Clean water is important to Maria because the village where her family lives relies on Lake Atitlan for its drinking water – the same lake where people wash their clothes, and bathe, where resorts drain sewage and boats dispose of oil.
Members of Maria's family and community have been sickened by drinking contaminated water from the lake.
"I hope to learn how effective the program is for indigenous communities, specifically the clean drinking water problems," said Maria. "I want to learn as much as possible about Lake Atitlan's species and environmental problems so that one day I can work toward a solution to eradicate these problems."
In addition to problems caused by contaminated water, pollution also leads to changes in the climate, which can have devastating effects on people living in poverty.
The Philippines is among the most vulnerable to the impact of global warming.
Thousands of families in the Unbound program lost their homes and livelihoods to typhoons and tropical storms in 2014.
To help mitigate the effects of weather, families and staff in the Philippines are now undertaking their own so-called "acts of green" to fight climate change.
Unbound's Antipolo project has started a 'Clean and Green' initiative which teaches farming families new irrigation methods for rice paddies and corn fields. As a result, more and more families are shifting away from the kaingin (slash and burn) way of farming.
Families and elders in the program are devoting more time to cleaning up the streets, canals and rivers.
The Antipolo project has a tree-planting activity every year when families plant the seeds from the fruits they eat.
"We have planted and nurtured thousands of trees," said Malou, Antipolo project coordinator. "They are growing in backyards, along the roads, rivers, in the parks, open spaces, foothills, watershed and shores in the communities served by our three subprojects."
As land is lost to urban expansion, finding space for farming is difficult.
Because of this growing problem, Unbound staff in La Paz, Bolivia have implemented an Urban Agriculture Program, which teaches people how to grow crops even in their own tiny backyards.
Ruth Balderrrama, Unbound coordinator for La Paz project, said, "This program is much needed for families because it allows the mother to work from home without having to leave the children."
Florencia, mother of a sponsored child, raises hens and grows vegetables.
"When you produce eggs and vegetables you don't have to buy them at the market anymore," said Florencia. "Now, I don't have to beg for a few cents just to prepare a soup that didn't even have the necessary nutrients for my children."
Saving the planet is an overwhelming challenge, but it's not out of reach. Even though people in the Unbound sponsorship program have limited access to resources, they're using what they have in innovative ways to support their families and take steps toward economic sustainability.
Let's follow their lead.
Unbound is the largest nonprofit in Kansas with more than $120 million in annual revenue. Unbound works side by side with people of diverse faiths in 21 countries, bringing people together to challenge poverty in new and innovative ways.
Unbound distributes direct aid as quickly and efficiently as possible to people who need it. 92.5 percent of Unbound's expenses go toward program support.
###