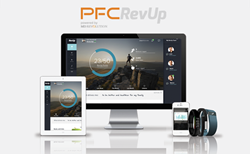 With PFC RevUp, we are literally at their fingertips anytime, anywhere with personalized coaching to help each client continue to reach health goals on their own.
San Diego, CA (PRWEB) April 28, 2015
PFC Fitness Camp, the premier fitness and weight loss destination located at Omni La Costa Resort and Spa partners with MD Revolution to launch a robust accountability platform for continued weight loss and overall health at home. Utilizing wearable fitness trackers, food journaling and unlimited access to health coaches, PFC RevUp ensures the healthy habits and results achieved at PFC Fitness Camp endure when the pressures of life kick in and  clients are left to their own devices.
Taking the idiom to heart, PFC Fitness Camp literally sends clients off equipped with health devices—a fitbit Flex, a Polar H7 Heart Rate Sensor and PFC RevUp, the only digital health platform of its kind designed by San Diego's top cardiologist and clinically proven to promote increased weight loss, improved cardiorespiratory performance and overall fitness. 
"Over the years, one request has been consistent from clients," states Managing Director, Zach Cutler "and that is to take PFC home with them. Our clients achieve amazing results through our program and naturally, are intimidated when they go home without the daily support of their PFC coaches and fellow campers. With PFC RevUp, we are literally at their fingertips anytime, anywhere with personalized coaching to help each client continue to reach health goals on their own."
Putting Good Intentions Into Actions
Data from activity devices alone fails to drive long term success or inspire action according to recent research. PFC RevUp goes beyond presenting data (steps or calories), and drives sustained engagement by collecting health and behavioral data, then delivering real, measurable health improvements through  coaching.
Clients can access PFC RevUp anytime, anywhere from a computer or mobile device to log meals, physical activity and enter other health metrics such as lab data, blood pressure, weight and glucose levels. Every client receives a care team of certified health experts who educate and provide personalized feedback via messaging on the individual's health and fitness information.
PFC RevUp Points Measure Success
Although personalized coaching remains one of the biggest differentiators in the platform, the RevUp points system is an integral part of the program. Developed and validated in a clinical lab, RevUp points correlate to behaviors that will help clients reach healthy outcomes. Points are received for activities such as meal logging, weigh-ins, logging blood pressure and tracking activity. Though the true reward is improved health and the prevention or reversal of chronic illness, PFC Fitness Camp offers fun prizes such as Lululemon gift cards or massages at La Costa Resort to keep energy and fun competition alive when introducing clients to the platform at camp. 
Positive Peer Pressure
Another proven factor in positive behavior change is healthy competition. Using social technology, PFC RevUp allows clients to add an additional element of accountability with fellow campers. The connections and bonds clients form while on their weight loss journey at PFC Fitness Camp travels far beyond the actual time spent at camp. Integrating social challenges allows clients to support, challenge and continue to get fit together even when they are miles apart.
Only available at PFC Fitness Camp, PFC RevUp elevates personal healthcare and weight management to the next level. For a monthly fee of just $39.50, the effective accountability program will help clients adopt sustainable lifestyle changes that prevent or reverse chronic diseases like Type II diabetes, obesity, hypertension and heart disease. For more information visit pfcfitnesscamp.com/at-home-revup/ 
About PFC Fitness Camp:
A luxury fitness and weight loss resort nestled in the coastal foothills of Carlsbad, California at Omni La Costa Resort and Spa. Featured on the Today Show, CNN, Travel and Spafinder's Where to Sweat Destination, PFC Fitness Camp holds the gold standard in fitness and weight loss, grounded in science and tested by top physicians and health experts in the industry. Dedicated to providing an unprecedented experience, PFC Fitness Camp offers a comprehensive approach to Behavioral Science, Nutrition and Fitness, for a full wheel of wellness that has resulted in thousands of sustainable weight loss and life-transformations for individuals around the world. 
About MD Revolution:
Founded in 2011 by Dr. Samir Damani, MD, PharmD, FACC, a practicing cardiologist, MD Revolution is at the forefront of chronic disease prevention and care. With a revolutionary approach to lifestyle interventions, our digital health solution, RevUp, delivers measurable improvements in health by empowering people with personalized coaching about nutrition, fitness, and health. MD Revolution works with physician practices, health systems, employers and other organizations to deliver scalable care management solutions.