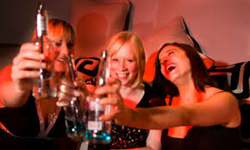 These types of mystery shopping partnerships are critical to the ongoing vigilance of our clients who sell age-restricted items.
San Jose, CA (PRWEB) April 23, 2015
According to the Chicago Tribune, in the Lake County region of Illinois fifteen businesses in the last few weeks were cited for selling alcohol to minors. In this same time period another five businesses were cited in the Waterloo IA area, eighteen in the San Diego CA area, and 22 in the Omaha NE region. When businesses allow minors to either consume alcohol on their premises or purchase alcohol at their establishment, the ramifications can be very serious. Responding to customer demand, Jancyn Evaluation Shops now offers mystery shopping assignments that partner with businesses to evaluate sales to minors.
The punishment in most cases are exponential in that the more offenses a business commit, the more elevated the punishment becomes. These punishments vary by jurisdiction but may range from monetary fines to having their liquor license suspended or voided. Companies that are in the business of selling alcohol (or any age restricted product such as tobacco, tobacco products, fireworks or spray paint) often make coordinated efforts to ensure that they are abiding by the laws of their state and that these items are only sold to above-age patrons.
Jancyn Evaluation Shops provides mystery shopping services all across the United States and partners with businesses looking to ensure that jurisdictional guidelines are strictly adhered to when it comes to the sale of age-restricted items. Jancyn has structured shop surveys in place that allow businesses to gauge whether proper ID is being requested when these sales take place. These programs provide quick and accurate feedback to clients and let them know which employees might be inadequately checking IDs.
According to Radu Dugala, owner of the popular Old Wagon Saloon and Grill in downtown San Jose, "Our mystery shop program provides valuable feedback that we use to continually improve service to our customers. Our demographic tends to be young people who come in to relax in our comfortable outdoor patio after work for a drink, meet up with friends, and have a great meal. Our bartenders and wait staff are trained to be sure proper ID is being checked."
This information can be used by businesses to provide additional training to employees or, if the offenses seem to be recurrent, create a basis for termination. The reporting that Jancyn provides is customized to the individual client and can provide as much detail as is requested by the client. Some clients prefer a simple Yes/No format wherein the mystery shopper reports whether the ID was requested, whereas other clients may want to know when the ID was reviewed for a particular period of time, whether the ID was examined against the shopper or whether the employee queried the shopper with regards to their date of birth.
According to Vicki Dempsey, Vice President of Sales and Marketing for the California based Jancyn Evaluation Shops, "These types of mystery shopping partnerships are critical to the ongoing vigilance of our clients who sell age-restricted items. Examples of clients are grocery stores, quick stop gas shops and, of course, restaurants and bars, especially those that tend to draw a younger set of patrons like national pizza and burger establishments."
Ms. Dempsey goes on to say, "In California, for instance, the fine is up to $3,000 for a first time offense. Our clients not only get terrific customer satisfaction feedback regarding their average patron's bar and dining experience, they learn which employees are or are not checking for proper ID. Clearly this is important information to their ongoing compliance training."
Jancyn recruits shoppers within this desired age compliance range (those between the ages of 21 and 30) on a regular basis and have a bevy of eager shoppers ready to take on these types of assignments. The non-biased and impartial feedback provided by these reports will let business owners know whether they are hitting the mark when it comes to checking IDs or whether there needs to be some employee intervention in order to prevent unwanted fines.