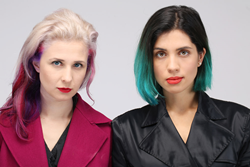 Santa Fe, NM (PRWEB) April 24, 2015
Santa Fe University of Art and Design (SFUAD) and SITE Santa Fe will jointly host "An Evening with Russian Art Activists Pussy Riot" on Thursday, May 7 at 6 p.m. in Greer Garson Theatre on the SFUAD campus. Founding members of the Moscow-based activist collective Pussy Riot, Maria (Masha) Alekhina and Nadezhda (Nadya) Tolokonnikova, will appear at Greer Garson Theatre in conversation with translator Peter Verzilov and Ellen Berkovitch, founder, publisher and editor of the west's contemporary arts online magazine Adobe Airstream.com
The program will feature topics such as cultural freedom, feminism, freedom of expression, world politics, and arts and activism, and be followed by a Q&A with the audience. The conversation is held as part of SFUAD's Artists for Positive Social Change™ series, and also kicks off SITE Santa Fe's 20th anniversary programming. Launched in 2011, Artists for Positive Social Change is a university-wide series of events, courses, lectures and performances exploring a specific theme relevant to society and the work of artists who push the creative boundaries of their profession.
Tickets for the program, the proceeds of which will benefit SITE Santa Fe's future programming, may be purchased at SITE Santa Fe and range from $35 to $600. SFUAD students can attend the event for free on a first-come, first-serve basis, but individuals must pick up tickets on campus in advance.
What: "An Evening with Russian Art Activists Pussy Riot," Hosted by Santa Fe University of Art and Design and SITE Santa Fe
When: Thursday, May 7 from 6-7 p.m.
Where: Greer Garson Theatre, Santa Fe University of Art and Design, 1600 St. Michael's Dr., Santa Fe, NM.
Tickets: Available for purchase online at http://sitesantafe.org/an-evening-with-pussy-riot/. SFUAD students can pick up free tickets on campus.
About Pussy Riot
Pussy Riot is a feminist protest art collective, which has been one of the world's most prominent activist groups in recent years, aiming to focus attention on creative freedom and human rights violations around the world. Founded in August 2011, the group became known for staging guerrilla performances in iconic public locations in Moscow. Footage from these performances were edited into music videos and posted on the Internet. The collective's lyrical themes and values include feminism and gender equality, LGBT and human rights, and democracy and freedom of expression.
About Nadya and Masha
Nadezhda (Nadya) Tolokonnikova and Maria (Masha) Alekhina are Russian conceptual artists and political activists. They are founding members of the art collective Pussy Riot. In August 2012, they were sentenced to two years' imprisonment following an anti-Putin performance in Moscow Cathedral of Christ the Saviour. Shortly after their release in December 2013, they announced the opening of Mordovia office of Zona Prava, their prisoners' rights NGO, and in September 2014 started their independent own independent news service, MediaZona, which has since partnered with The Guardian. They have spoken before the US Congress, British Parliament, and have appeared on stage with world leaders including Bill Clinton. In November 2014 they met with Julian Assange in London and became board members of his Courage Foundation. Tolokonnikova and Alekhina are Lennon Ono Grant for Peace recipients, and most recently, appeared as themselves with President Frank Underwood on season 3 of House of Cards.
About SITE Santa Fe
SITE Santa Fe opened in 1995 to present what was then the only international biennial of contemporary art in the United States, and one of only a handful of biennials around the world. From the very beginning, SITE established a commitment to a risk-taking and visionary perspective that continues to drive its programs today. Year-round exhibitions and educational programs encourage the creative and intellectual potential of the audience and uphold the region's tradition of fostering avant-garde art. As an institution with a year-round contemporary art program, SITE hosts an Art & Culture series of lectures and performances, as well as an extensive education and outreach program for local schools, all of which attract over 20,000 local, national and international visitors annually. Since its launch, SITE has presented over 75 exhibitions —including nine biennials —of works by over 500 international artists.
About Artists for Positive Social Change™
Santa Fe University of Art and Design's Artists for Positive Social Change™ is a groundbreaking, university-wide series of events, lectures and performances that highlights one theme each year as part of a five-year initiative. All departments of the university engage in an in-depth exploration of the chosen theme, discussing the work of relevant artists who have respectfully and fearlessly pushed the creative boundaries of their medium. During the initiative's inaugural 2011–2012 academic year, Artists for Positive Social Change focused on hip-hop not just as entertainment, but as a significant form of communication and a cultural force around the world.
About Santa Fe University of Art and Design
Santa Fe University of Art and Design is an accredited institution located in Santa Fe, New Mexico, one of the world's leading centers for art and design. The university offers degrees in arts management, contemporary music, creative writing, digital arts, graphic design, film, performing arts, photography and studio art. Faculty members are practicing artists who teach students in small groups, following a unique interdisciplinary curriculum that combines hands-on experience with core theory and prepares graduates to become well-rounded, creative, problem-solving professionals. As a Laureate Design University, SFUAD boasts an international student body and opportunities to study abroad, encouraging students to develop a global perspective on the arts. Santa Fe University of Art and Design is accredited by The Higher Learning Commission.