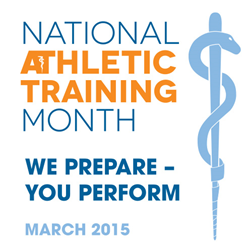 Congrats to our NATM 2015 ATEP Video Contest Winners: College at Brockport, Ithaca College, and Marist College!
Rochester, NY (PRWEB) April 23, 2015
Each March, athletic trainers (ATs) and their supporters work together to promote sports safety and recognize the athletic training profession during National Athletic Training Month (NATM). In order to celebrate NATM and recognize ATs and their efforts, NYSATA held a variety of events this March aimed at professionals, future professionals, and the public alike.
The third annual Athletic Training Education Program (ATEP) Student Video Contest drew entrees from six of the eleven accredited ATEPs in NYS - Alfred University, The College at Brockport, Daemen College, Dominican College, Ithaca College, and Marist College. The students were challenged to create a brief video depicting the NATM 2015 tagline - how, as ATs and ATSs, "We Prepare - You Perform."
The overall contest winner, for the third straight year, was the College at Brockport ATEP whose video was created by ATSs: Matt Robinson, Jessa Pacatte, Rachel Deppa, Kiera Kenyon, Morgan Darrow, and Bree Fortney. Inaugural entrant Ithaca College ATEP took a strong second with a video created by ATSs: Kyle MacKinnon, Brian Burns, and Theresa Lau. Third place was earned by the Marist College ATEP and ATSs: Michaela Heath and Kacey Carter. In addition to a monetary award toward AT-related student development, the winning ATEPs will be recognized at the 2015 NYSATA Conference in New York City this July.
The Video Contest drew over 17,000 views and nearly 6,000 total votes in two week of open voting and videos can still be viewed on the NYSATA website. In addition to this contest, NYSATA also developed an NATM 2015 webpage, which logged nearly 22,000 views, and ran a #ATsPrepareNY Twitter initiative. Followers and AT-supporters were encouraged to tweet about how their ATs prepare their schools' student-athletes for safe participation. In addition to the website and social media initiatives, NYSATA joined with ATs from Pennsylvania, New Jersey, and Delaware to create a District 2 informational commercial about athletic training.
For the third consecutive year, NYSATA also secured a NYS Resolution officially proclaiming March as Athletic Training Month in New York State. The 2015 Resolution was sponsored by NYS Senator Catharine Young, who also paid a visit to Jamestown Community College's athletic training room and head athletic trainer - and NYSATA President - Aimee Brunelle. The February 21st visit kicked off NATM a few days early and gave Senator Young the opportunity to learn and observe what ATs do, and assess the positive influence ATs have on student-athletes.
In addition to the NYSATA-sponsored initiatives, there were various other NATM events held around New York State. The Stony Brook University (SBU) ATEP again organized an NATM trip to NYC with NATM signage on Friday, March 13th. In addition to manning The Today Show plaza, they expanded efforts to Good Morning America as well. Athletic trainers (ATs) and athletic training students (ATSs) from more than ten colleges and universities from New York, Pennsylvania, New Jersey, Delaware, and Connecticut joined the event. In addition to SBU, the NYS contingent included ATs and ATSs from the Dominican College ATEP and Hofstra University ATEP.
The Daemen College ATEP also teamed up with Canisius College's ATEP in their annual 'AT Olympics' on March 28th, creating a new tradition of networking and friendly competition between the two programs. Canisius won the inaugural event, which featured AT skill-themed competitions and relay races. NYSATA member Angela Honeck, MPS, ATC, Head Athletic Trainer at University at Pittsburgh at Bradford (PA) reports a number of activities done by their AT students, including a visit with the Buffalo Bills athletic training staff and tour of their facility given by the Bills' Assistant AT, Shone Gipson.
The [NYS] Section Eight Athletic Trainer's Society (SEATS) held a Lacrosse Sports Medicine Symposium at Nassau University Medical Center on March 7th. "Sports Magazine", a local Lockport, NY TV show, featured a special on NATM on March 2nd with Tony Surace, MEd, ATC (Niagara Falls High School), Jeff Green, MS, ATC (Grand Island High School) and Jason Hopkins, ATC (Lewiston-Porter High School) on with host, Jim Slowey discussing the importance of athletic trainers and their role as sports medicine healthcare professionals. Surace also circulated an email to Athletic Directors, Coaches and Administrators in the greater Niagara and Erie counties highlighting the role of ATs and the importance of having an AT on the sideline, such as helping prevent catastrophic complications and fatalities associated with sports injuries. In addition, Bambi Horton, ATC, Head Athletic Trainer at the Nichols School, was interviewed by Dave Ricci of the "North Buffalo Courier" for an article on ATs and National Athletic Training Month.
Thanks also to Professional Physical Therapy (NYC region), the Daemen College Athletic Training Student Association, the Hofstra Athletic Training Student club (HATS), Hendrick Hudson HS athletic trainer, Meg Greiner, ATC, and Arlington High School athletic trainer, Brooke Delia, ATC, for planning community and school events for NATM 2015 to promote awareness and sports safety.
NYSATA, founded in 1976 and incorporated in 1989, stands to advance, encourage and improve the profession of athletic training (AT) by developing the common interests of its membership for the purpose of enhancing the quality of healthcare for the physically active in New York State. Athletic training is practiced by certified athletic trainers (ATs), who have expertise in the assessment, emergency management, rehabilitation and prevention of acute and chronic sport-related injuries, illnesses and conditions, including concussions. Comprised of over 1,200 certified and practicing athletic trainers, NYSATA is the state-wide affiliate of the regional Eastern Athletic Trainers' Association (EATA) and District Two of the National Athletic Trainers' Association (NATA).