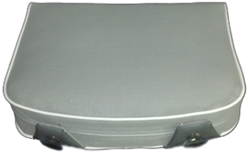 We're pleased to now offer seat risers that are made for transfer bathtubs.
New York, NY (PRWEB) April 23, 2015
National walk in bathtub and handicapped shower company, Aging Safely Baths introduces bath seat cushions designed for walk in tubs and wheelchair accessible transfer bathtubs. The new product is similar to the traditional style carried by the company, although these new cushions are much wider and designed to work in conjunction with a bathtub that's designed for people in a wheelchair or that have extreme limited mobility.
The unit's are made of a high quality material that's designed to be in the water. After use, clients can simply turn the unit up vertically, and all of the water will drain out to dry. They come with suction cups attached that can adhere to most acrylic and gel coat finishes. This makes it easier for bathers to keep the cushion in a down position while taking a bath.
Customers can choose to customize the bath cushion in numerous ways. The radius is especially important to get right. Potential clients can click here to download a radius sizing chart that can be printed out and placed in the bath, to help ensure the correct radius is ordered.
The height of the unit is a very appealing feature for many elderly people, due to the difficult time they can have getting up out of a tub. The risers' heights range from 3.5" tall up to 8" before compression. The padded seat risers will compress when a bather sits on them, typically about 1.5" lower than the pre-compression height. These handy bathing accessories can potentially make it easier for seniors to get out of the bathtub or shower.
According to the company, customers also really appreciate the comfort of the risers. Walk in tubs and transfer baths have a relatively hard surface. When a bather sits down, it may be slightly uncomfortable and they might experience an unpleasant impact when going down. The cushions can help provide some padding to lessen the shock when sitting, and help make it easier to rise out of the bath when raising up again.
Aging Safely is a national provider for several leading walk in tub and handicap shower brands. They provide hydrotherapy walk in baths, handicapped showers with wheelchair ramps and built in seats, grab bars, shower pans and accessory parts. They have some of the best prices nationally, sometimes more than half off of what some of the major big box companies charge. While they do offer a lower price, they do not cut corners on quality or customer service. Since they are a small family owned business, they can still provide great friendly customer service. Their knowledgeable staff has several years' industry experience, will happily answer any questions and provide up front pricing.
Knowing the right place to buy step in tub and elderly bathing products can be challenging. Especially when there are so many brands, that look so similar. The bathing consultants can help inform customers about important things to consider before purchasing. Not every tub or shower is the same, and most clients' needs are very different as well. Some units are extra-large, while others are designed to fit into small spaces and are compact.
According to the company, all models come with a comprehensive lifetime warranty on the door seal. Part warranties can vary depending on the model. Clients can buy air hydrotherapy, water jets or both at the same time. Luxury spa options are also available such as heated seats, aromatherapy and chromo-therapy mood lighting. The bath cushions also come with an excellent warranty and are made in the United States.
These products can be installed into residential homes, or new construction and in commercial facilities such as hospitals, nursing homes and assisted living. Builders and contractors can also purchase direct from Aging Safely at a wholesale price point. For more detailed information or to request a quote visit http://www.agingsafelybaths.com or call a representative at the number provided below.
Contact Information:
Zach Wennstedt
1-888-779-BATH(2284)
Info(at)Agingsafelybaths(dot)com