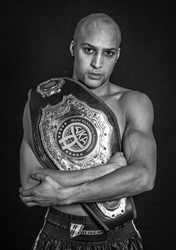 Lockport, NY (PRWEB) April 23, 2015
Syracuse native Kevin VanNostrand is making a statement in the world of professional Muay Thai, and according to him, he's just getting started.
"I want to be on top of the world," VanNostrand stated.
At 28 years old, the mild-mannered and soft-spoken Thai boxer has had a remarkable and unblemished amateur career. He claimed the World Kickboxing Association's Northeast, United States and World titles all in the matter of 24 months. Ranked as the no. 1 amateur fighter in his weight class, his promoter Amer Abdallah decided it was time to turn him to the professional ranks.
On Oct. 19, 2013, VanNostrand made his professional debut against one of Canada's most ferocious and well-respected professional welterweights, "The Professor" Chris Williams.
"It was definitely not the type of fight I'd schedule for an amateur just turning pro, but Kevin is a different caliber fighter," Abdallah said.
The scheduled five-round bout took place in Syracuse, NY in VanNostrand's hometown. Pitted as the main event, the back and forth battle was one of the most exciting bouts on the card that night. Going into the final round, all of the judges had it even. VanNostrand dug deep and in his trademark electrifying fashion, threw a spinning elbow that landed flush on the Canadian's chin and sent him crashing down to the mat. VanNostrand had defied the odds once again and delivered a sensational one-shot knockout over the well-respected and talented Williams.
"I had always respected and admired Kevin's skill, talent and knockout driven mindset," Abdallah stated. "But that fight took him to a different level."
VanNostrand is trained by the renowned Jim Andrello of Team Andrello in Baldwinsville, NY, who has been with him since the start. Andrello's name is ever apparent in each of VanNostrand's fights as he has his head shaved in the signature style reading, "Team Andrello."
VanNostrand has been undefeated as a pro and has gained the attention of the largest Muay Thai promotion in the country, GLORY. On Feb. 6, VanNostrand competed in GLORY 19 in Hampton, Virginia against what was slated to be the biggest challenge of his professional career, Carlos Lopez. In typical VanNostrand style, the fight ended within the opening two minutes of the bout. VanNostrand annihilated his opponent in vicious fashion and earned his greatest victory by TKO in the first round. VanNostrand had made his mark and the world took notice.
Currently at 8-0 as a professional, with an astounding seven wins by knockout, VanNostrand continues his pursuit of greatness in the Muay Thai world.
"He's what I call a quiet killer," Abdallah stated. "One of the most humble, respectful gentlemen I've ever met...yet perhaps the most ferocious and devastating I've ever seen in the ring."
For more information about Kevin VanNostrand, visit http://laceuppromotions.com/.