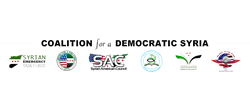 US action to stop atrocities of the Assad regime is long past due
Washington, DC (PRWEB) April 25, 2015
The Coalition for a Democratic Syria thanks Senators Dick Durbin (D-IL), John McCain (R-AZ), Tim Kaine (D-VA), and Lindsey Graham (R-SC) for their letter urging the Administration to work with US allies to implement humanitarian safe zones in Syria.
The letter calls for safe zones as a way to alleviate the grave human suffering that pervades the country. Safe zones would limit the Assad regime's ability to launch indiscriminate aerial attacks on civilian populations. Additionally, these zones would help stem the flow of refugees and ease the delivery of humanitarian aid to areas currently under siege.
"US action to stop atrocities of the Assad regime is long past due," said CDS chairman Dr. Yayha Basha. "We welcome these efforts by Congress as a way to save lives in what has already become one of the largest humanitarian tragedies since WWII."
Over 310,000 people have been killed as a result of the conflict, while an additional 10 million have been driven from their homes. Despite multiple UN Security Council resolutions, the regime continues undeterred in its use of indiscriminate weapons such as barrel bombs and its manipulation of humanitarian aid as a tool of war. In the past month alone, the Assad regime has launched numerous chlorine bomb attacks on civilians in Syria.
The full letter can be found here.
The Coalition for a Democratic Syria is a group of Syrian-American non-profit organizations working together to bring about a swift end to the conflict and support the establishment of peace, freedom, and democracy in Syria. The CDS is a multi-ethnic, multi-confessional, non-partisan organization. The CDS includes: Syrian Emergency Task Force, United for Free Syria, Syrian American Council, Syrian Christians for Peace, Association of Free Syrians, and the American Syriac Union.