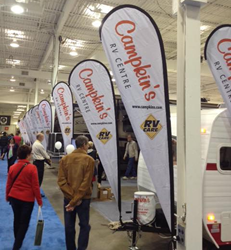 Toronto, Ontario (PRWEB) May 04, 2015
Campkin's RV Centre, North Whitby Ontario, displays travel trailers and tent trailers at three RV shows a year, but the January Toronto RV Show of 2015 proved to be quite a surprise!
Management at Campkin's seems to put a lot of thought and effort into showing the best brands and models at each show. Showing Forest River Brands: Clipper, R-Pod, Surveyor, Cherokee and Primetime Avenger, Tracer, Lacrosse, Sanibel and Spartan as well as the new White Water Retro Trailers meant that Campkin's RV Centre had a winning line up of top selling brands and models.
The Campkin's sales strategy at local RV Shows is no different than it is at their sales location in Myrtle Station, Whitby. "We ask customers what type of camping they want to do? We cater to all types, beginners, novices and experienced RVers. Some know what they want, while others need assistance in finding the right camper for their requirements." says Roland Goreski, Owner and General Manager at Campkin's RV.
No-pressure sales makes progressive dealerships such a comfortable experience. And even if they have to refer customers to another dealership, Campkin's reputation as an honest resource for RVing is well-known, both by customers and other RV dealerships.
This year Campkin's RV Centre posted their best sales results ever. Goreski says "We negotiated with each of our manufacturers to guarantee the lowest possible selling price on the most popular models." Campkin's RV purchased large quantities of these brands and models to lock in the show price and maintain low pressure purchasing conditions. "Take a few days to decide, and we will hold the price until the following Saturday after the show. Again, no pressure." This strategy proved to be unique at the show, as Roland was told by many show goers that this was refreshing.
The truth is that this is just part of Campkin's normal pricing policy as posted on their website, not a special show strategy; savvy RV consumers appreciate this type of fair pricing policy.
About Campkin's RV Centre:
Always an early adopter, the Campkin's brand has a history of experimenting with internet marketing trends and advertising best practices in an effort to present an honest and fair profile for RV enthusiasts across Ontario. "Our policy is transparency in pricing, the presentation of rich media so the customer can make their own decisions without the need for a salesperson and, of course, great customer service after the sale," says Roland, the owner and President of Campkin's RV Centre.