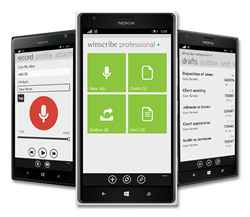 ...Winscribe Professional for Windows Phone simply sends my dictations directly to my typist, and my documents are typed and posted the same day. It works very well on my mobile.
Auckland, NZ (PRWEB) April 27, 2015
Winscribe Professional for Windows Phones is the latest enhancement to their suite of mobile speech productivity technology, which also includes applications for Android, BlackBerry, and iOS tablets and smartphones.
Winscribe has supported mobile dictation over the Windows Mobile Operating System since 2005. With the latest enhancement, Winscribe Professional for Windows Phones represents Winscribe's fourth generation mobile application interface in the last ten years. The sleek and intuitive user interface simplifies and accelerates the mobile dictation process, while featuring a stylish new look and feel.
"I found the Winscribe app very easy to use for sending dictations on the go – using my Nokia Lumia 920. All the key functions are available from the opening screen, so I found it quick to start recording my dictations. Winscribe Professional for Windows Phone simply sends my dictations directly to my typist, and my documents are typed and posted the same day. It works very well on my mobile," says Winscribe client and Windows Phone user, David Martin at PDQ Business Services in Stafford, United Kingdom.
Pierre Corboz, Director of Product Strategy at Winscribe, explains:
"As mobile technology progresses, Winscribe's applications are also evolving – enabling our clients to have the most sophisticated voice technology and the widest range of recording options. Winscribe Professional for Windows Phones is no exception, and the emergence of this application further enhances the flexibility of the Winscribe Dictation system."
Winscribe is increasingly seeing Microsoft's mobile operating system gain market share amongst business professionals, such as lawyers, insurance agents, healthcare workers and sales professionals. According to Kantar Worldpanel, Microsoft's smartphone operating system managed to score an increase of 0.9 percent in a three-month period ending February 2015, and it has reached a market share of 10.1 percent in Europe – enough to secure it third place, after Android and iOS. The momentum surrounding the Windows Phone's growth is further strengthened by the expected release of Windows 10 later this year.
Winscribe Dictation is built on Microsoft architecture, making the Windows Phone application a natural fit in Winscribe's catalogue of dictation, speech recognition and documentation management solutions for businesses. Additionally, there are several advantages to mobile dictation, including:

Improved productivity on-the-go
Improved document turnaround time
Immediate access to client information
Better client responsiveness
Not only do Winscribe's mobile applications enable business professionals to instantly transfer dictations to support staff while on-the-go, they also enable organizations who have already embraced mobility to deploy an advanced workflow system without incurring additional hardware costs.
Mr. Corboz commented:
"The latest Windows app enhancement from Winscribe seamlessly fits into the Winscribe platform and supports a fully BYOD approach for businesses – as all four major smartphone platforms are covered. This allows organizations to easily leverage Winscribe's intelligent workflow technology, while enjoying centralized workload management, easy interfacing into their other information systems, and productivity increases – without the extra cost of specific hardware support."
Winscribe's software provides professionals with full dictation functionality and an advanced dictation and transcription workflow, which enables organizations to better monitor staff workloads, identify and address bottlenecks in the documentation processes, utilize voice recognition for faster document production, and more. Moreover, Winscribe's mobile applications are easy to use and secure – meeting the requirements for secure client data protection.
To learn more about Winscribe's mobile dictation applications, as well as Winscribe's suite of digital dictation, speech recognition and workflow management solutions, please visit http://www.winscribe.com.
About Winscribe:
Winscribe is a world leading provider of speech productivity technology supporting business requirements for digital dictation, transcription, speech recognition, speech-enabled documentation and workflow management. Founded in 1995, Winscribe has offices in the USA, UK, New Zealand, Australia and Switzerland, with more than 100 sales partners in over 25 countries supporting more than 350,000 users worldwide.
The Winscribe solution is built on Microsoft architecture, to ensure easy integration and maintenance. Winscribe also supports a wide range of manufacturer-independent dictation devices and is scalable from small, single office locations up to large multinational corporations. Winscribe is fully customizable to meet the needs of a number of significant vertical markets including Legal, Law Enforcement, Healthcare, Transcription, Insurance and Government Sectors. For more information, please visit http://www.winscribe.com.