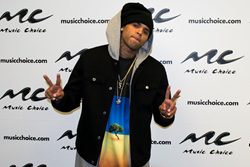 Chris Brown stated: "I am very proud to be the new Music Choice Icon! This is a great honor and I truly appreciate all the love and support I have been shown by Music Choice and my fans throughout my career."
New York, NY (PRWEB) April 27, 2015
Music Choice is proud to announce Chris Brown as its next artist to be named an MC Icon. Music Choice continually supports the journey of music's biggest artists from their first tracks to legendary star status. Chris Brown is the No. 1 performer of all time on Music Choice Video On Demand, where his videos have reached 443 million orders. Chris' far-reaching influence also extends to Music Choice Play where he was the most requested artist of 2014 and Music Choice audio channels where his songs have played on 21 channels. As a result, he will be awarded with this status to recognize his career achievements and the substantial impact he has had on MC fans since he appeared on our airwaves.
Chris Brown stated: "I am very proud to be the new Music Choice Icon! This is a great honor, and I truly appreciate all the love and support I have been shown by Music Choice and my fans throughout my career. I am excited to continue to bring new music and videos to this amazing platform."
Mike G, CEO NiteVision Management stated: "Thank you to the Music Choice network for such a great honor. The Music Choice network has been one of our biggest supporters throughout Chris Brown's musical journey. We are blessed and humbled today with this amazing achievement of naming Chris Brown an MC Icon."
As a result of this recognition, Music Choice will feature Chris Brown across all of its platforms this May.

Music Choice Play will premiere a special entitled "MC Icons: Chris Brown" nationally Tuesday, May 5 at 8pm ET/PT on Music Choice Play (check local listings). The special includes archival footage of Chris' first visit to Music Choice in 2005 up to present day including his takeover from 2014. The episode will become available on Music Choice On Demand and musicchoice.com following its initial broadcast premiere on Music Choice Play.
Music Choice On Demand will feature a top level Chris Brown folder that includes his entire catalog of music videos. Brown's 2010 monster-hit "Deuces" is his best-performing music video to date with 31 million orders on VOD, followed by "Look At Me Now" with 22 million orders. Even when Chris is simply featured on songs by artists such as David Guetta, Wisin & Yandel and Sean Kingston, these artists see a rise in their video order numbers. Fan favorites music videos will appear on VOD and musicchoice.com via MC Hit List and Hip-Hop and R&B Video Channels. Directional: Music Choice On Demand>MC Icons: C. Brown
Music Choice Music Channels will debut specially created "MC Icons: Chris Brown" facts that will be added to our database permanently to mark this occasion. Chris Brown songs will also play two in a row on MC Hit List, Hip Hop & R&B and Pop Rhythmic Music Channel to kick off the celebration on May 5th.
Music Choice Digital & Social Media will call upon his fans to share their love and experiences with Chris Brown and feature them across all digital and social platforms including MC Hit List and Hip-Hop & R&B video channels, Tumblr, Vine, Instagram, etc.
Chris Brown is a Grammy Award winning and multi-platinum-selling singer/songwriter who recently made his sixth #1 album entry on the Billboard R&B/Hip-Hop chart with his latest release X (RCA Records), according to Nielsen SoundScan. Chris has racked up a total of 8.3 million in U.S. album sales, six No. 1 singles (two on the Hot 100; four on Hot R&B/Hip-Hop Songs), 12 top 10 Hot 100 singles and 26 top 10 singles on Hot R&B/Hip-Hop Songs. Meanwhile, his total song sales stand at 42 million, and he has over 443 million views on Music Choice. Adding the coveted Grammy Award to his collection, Brown is the recipient of over 40 awards, including a Billboard Music Award for Top R&B Artist in addition to the 2012 BET Awards for Best Male R&B Artist and the 2012 MTV Video Music Awards for Best Male Video and Best Choreography for "Turn Up the Music." With all of Chris' success in the music industry he is also just as proud of his philanthropic work he does with his charity The Symphonic Love Foundation. Symphonic Love Foundation supports and creates arts programs for youth while encouraging every day public service, respect and kindness. When not working on his own music or helping out with his charity, Chris can be found either directing music videos for some of world's top musical talent, cultivating the younger generations up and coming musicians with his label CBE (Chris Brown Entertainment) or refining his skill and love for street art and graffiti.
Music Choice will continue to recognize artist contributions throughout the year with additional MC Icons to be announced each quarter. For more information about Music Choice, log onto http://musicchoice.com/ or to become part of the Music Choice community join us on Twitter: @MusicChoice or Facebook.
About Music Choice:
Music Choice, the multi-platform video and music network, delivers its music programming to millions of consumers nationwide through their televisions, online and mobile devices. Music Choice programs dozens of uninterrupted music channels; produces originals that feature today's hottest established and emerging artists; offers thousands of music videos; and Music Choice Play, the music video, lifestyle and entertainment network for Millennials. For additional information log on to http://www.MusicChoice.com | Twitter: @MusicChoice | Facebook: http://www.facebook.com/MusicChoice