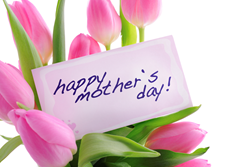 Happy Mothers Day to All Mothers from Via Brasil Steakhouse
Las Vegas Nevada 89117 (PRWEB) April 27, 2015
Celebrate Mother's Day at Via Brasil Steakhouse with a three-course menu for brunch and dinner.
This Brazilian Churrascaria in Las Vegas is open at 10 a.m. for brunch to 1pm
Via Brasil Steakhouse Mother's Day Brunch includes :
•Over 50 items like eight succulent meats, including 8 Meats :

Picanha,
Steak wrapped in bacon,
Turkey,
Prime rib,
Ham-pineapple,
Chicken,
Brazilian pork,
Try tip
with
•House-made omelets and eggs benedict
•Gourmet salad bar filled with 35 great breakfast and brunch options, all you can eat
•4 Side Dishes
•Dessert
The brunch price is only $34.99.
Children's Brunch prices are:
•Children 4 years old and under for brunch eat for free
•Children 5 and 6 years old price for brunch is $4,99
•Children 7 to 12 years old price for brunch is $24.99
Rodizio Dinner this Mother's Day begins at 2 pm and ends at 9 p.m .
Mother's Day Dinner includes:
•Over 21 different meats all you can eat (Porterhouse, Chicken Drumsticks, NY Steak 13, Turkey wrapped in Bacon, Leg of Lamb, Sweet & Tangy Chicken, Lamb Chops, Chicken Breast, Grilled Shrimp 16, Chicken Hearts, Picanha (Top Sirloin), Beef Short Ribs, Prime Rib 18, Tri-Tip, Filet Wrapped in Bacon 19, Garlic Steak, Salmon 20, BBQ Baby Back Pork Ribs, Flank Steak 21, Brazilian Sausage, Brazilian Pork)
•4 side dishes served table side, all you can eat
•Gourmet salad bar with over 35 hot and cold dishes like seafood, pasta, salads, lobster bisque, fine cheese and much more
Via Brasil Steakhouse Rodizio-Mothers Day Dinner price is $49.99.
Children's Dinner prices are:
•Children 4 years old and under dinner price is free
•Children 5 and 6 years old dinner price is $4,99
•Children 7 to 12 years old dinner price is $24.50
About Via Brasil Steakhouse: Voted Best of Las Vegas Brazilian Steakhouse 2010,2014,2015 by Review Journal Via Brasil Steakhouse is a Brazilian Steakhouse/Churrascaria located on 1225 S. Fort Apache Road #100 LV NV 89-177.
Via Brasil Steakhouse is open every Thursday and Friday from 11:30 a.m. to 3p.m. for lunches a la carte menu. Lunch menu offers a lot of steaks sandwiches as well as seafood and salads, risotto and much more.
Via Brasil Steakhouse offers diners the unique service style of Rodizio Dinner, featuring up to 21 meats served tableside, a gourmet salad/appetizer bar with 35 hot and cold dishes and 17 side dishes, all you can eat for a fixed price. For children 4 years old and under, Rodizio Dinner is free; for children 5-6 years old, Rodizio dinner is only $4,99; and for children 6-12 years old, Rodizio Dinner price is $24.50.
Every Sunday Rodizio Brunch is served from 10 a.m. - 2 p.m. enjoy one of Las Vegas' best brunch's with more than 50 items, all you can eat, featuring 8 succulent meats served tableside, chef's made-to-order omelet and waffle station and gourmet salad bar filled with great brunch options.
At Via Brasil they provide an experiential dining event that the guests will remember forever. The gaucho culture, a rich blend of traditions of European immigrants and Brazilian natives, stands as one of the best-known cultural symbols of Brazil. Established in the 17th century in Southern Brazil, it spread throughout the country. From their attire to the exceptional service they show guests, their chefs proudly exhibit the traditions of the gaucho culture.
Their Las Vegas location offers beautiful private dining rooms to accommodate intimate groups of 15 to large functions of over 400 guests, including a wonderful private dining room for 15 to 150 people. Dining room has 150 inch big Screen and separate system for any big events
Via Brasil Steakhouse Private Room is available to seat 20 to 80 guests.
In the private room guests can use free of charge:
Wireless Microphones
Podium
Two 100 inch screens for presentation & video
Separate sound system-speakers
Wall Lights (Blue, Green, Yellow, Pink, Red, White)
Dance Floor
Candles at all tables
Via Brasil Steakhouse Semi Private Room is available to seat up to 150 guests.
In the private room guests can use free of charge:
Wireless Microphones
Podium
Two 100 inch screens for presentation & video
Separate sound system-speakers
Wall Lights (Blue, Green, Yellow, Pink, Red, White)
Dance Floor
Candles at all tables
The whole restaurant is able to be rented out for any groups doing meetings -conventions & events