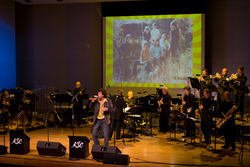 "Everyone is in for quite a nostalgic and incredibly musical trip." — KSO Music Director, James Cassidy.
Covington, Kentucky (PRWEB) April 28, 2015
"What goes up, must come down. Spinning wheel got to go round."
"Sitting crossed-legged on the floor, twenty-five or six to four."
A Millennial might ask: What is this mumbo jumbo, a physics primer or some numerology parable? Whereas a Boomer probably couldn't recite these words out of rhythm and might just sing them outright.
For 47 years the famed jazz/rock horn bands Blood Sweat & Tears (BS&T) and Chicago have recorded, toured and left more than a two-generation catalog of hits between them. Both groups started in 1968 in Chicago and New York respectively. Both comprised similar instrumentation and all were trained musicians. Both still tour today (Chicago with most of its original members).
The KSO's long interest in cultivating subsidiary groups (those outside of the Symphony) of specialized, experienced musicians, who can authentically delve into America's unique 100+ year musical heritage, has allowed for the formation of several active and unique ensembles — The Newport Ragtime Band (jazz, blues, ragtime, Vaudeville, etc from 1896-1933), The Flood Wall Jazz Quintet (hybrid classical/jazz 60-70s), The (new) Covington Devou-Doo Daddies (90s swing revival) and the KSO Boogie Band (pop, Country, R&B, Latin, Disco, etc from 1955-2012).
The KSO's "Boogie Band" offers a live, recreation of the studio session group of musicians, who would lay down the back-up instrumental and vocal tracks in studio recordings of various artists and groups. When people listen to their favorite songs, they often will hear a string section on ballads, or some horns that may or may not be in the original band. These musicians are similar to the guys and gals who are hired to "sit in" to record charts in LA, Nashville, NY or right here in Cincinnati. "We are fortunate to live in a region with so many fabulous musicians to call upon. Many of the KSO musicians in this group have played on numerous recordings with a variety of artists. One of our trumpeters — Gary Winters — used to fly to LA to play for American Idol. These kinds of evenings are as much fun for the band as they are for the audience. Everyone is in for quite a nostalgic and incredibly musical trip," said KSO Music Director James Cassidy.
These three nights at The Carnegie will feature a group of seasoned veterans and several area vocalists, who will present an evening of hit tunes and tell the stories about these two bands from two cities. BS&T and Chicago each took very different paths over their incredibly long runs, which continue today.
Find out which group was a headliner at Woodstock. How did another react to a self-inflicted tragedy? Hear the hits of the past ("You Made Me So Very Happy," "Saturday in the Park," "You're the Inspiration," "And When I Die") together with more recent releases ("Now," "Surreptitious") as the KSO closes its 23rd / All 20th-century season with three unforgettable nights at The Carnegie — 8:00 p.m., Thursday through Saturday, May 7 - 9, 2015. Tickets are Adults $30, Students $27 — http://www.kyso.org. Group discounts and limited view seating available by phone only at (859) 431-6216.
About the KSO: The Kentucky Symphony Orchestra takes the "phony" out of symphony through its varied and thematic concerts, which culturally enrich, educate and entertain the residents of Northern Kentucky and Greater Cincinnati. The KSO performs throughout Northern Kentucky performing three series of concerts, for the schools, in the parks and at various indoor venues.