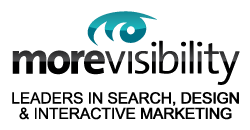 Boca Raton, FL (PRWEB) April 28, 2015
MoreVisibility is proud to announce a new strategic partnership with Google, being named a Google Analytics Premium™ Authorized Reseller.
After undergoing a rigorous vetting process, MoreVisibility joins the ranks of a select group of Google Analytics Certified Partners who are authorized by Google to resell the Google Analytics Premium platform. Being chosen as an authorized reseller means that MoreVisibility is able to provide clients access to this best-in-class enterprise analytics tool, including increased data processing power, access to more unsampled numbers, and allowing for more granular data mining.
This is the latest credential MoreVisibility has received from Google. The full-service interactive marketing agency is also a Google Partner for AdWords, Google Analytics Certified Partner, and Google Tag Manager Specialist.
"We are excited for the possibilities that Google Analytics Premium presents for the clients and prospective clients we work with. The extra processing power and advanced analysis capabilities alone will open a lot of doors that simply are not available with Standard Google Analytics," Andrew Wetzler, President of MoreVisibility commented. "We're proud to add Google Analytics Premium to our list of offerings. With this tool and our agency's expertise and strategic direction, the sky's the limit when it comes to attribution, data analysis, and complete campaign optimization."
Google Analytics Premium is aimed to equip companies with advanced and highly detailed web analytics. Premium customers benefit from higher data limits, advanced attribution modeling tools and increased number of custom variables, which allow for more sophisticated and robust visitor segmentation. MoreVisibility will support the platform's world-class service level agreement, which includes guarantees for uptime, 100% data ownership, data collection, processing speed, and reporting.
MoreVisibility's team of analytics experts will outline a clear Google Analytics Premium usage and implementation plan, and provide 24/7 expert technical support, data analysis, and training for Google Analytics Premium customers.
For more information on how MoreVisibility can help you get started with Google Analytics Premium, visit the MoreVisibility website.
About MoreVisibility
Founded in 1999 and based in Boca Raton, FL, MoreVisibility is one of the nation's leading interactive marketing agencies in Search Engine Optimization, Search Engine Marketing, Google Analytics, Design, and Social Media. Throughout its 15 years of business, MoreVisibility has helped hundreds of businesses with their online marketing needs. From 2005 to 2010, the agency was also included in the Inc. 500 / Inc. 5000 list of the nation's fastest-growing, privately-owned firms.
MoreVisibility boasts high client retention through a team of 40 senior professionals who deliver superior performance and measurable results. Notable clients served include: The Metropolitan Museum of Art, McGladrey, Golf Channel, Memorial Healthcare System, Miami Dolphins, Direct Marketing Association (DMA), W.R. Grace, and Clemson University. MoreVisibility is based in Boca Raton, Fla., and can be found on the web.