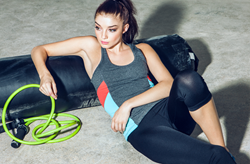 These items pair perfectly with GoJane's racerback tanks and sleeveless athletic tops, and they can be mixed and matched in a wide variety of ways
LOS ANGELES, Cali. (PRWEB) April 29, 2015
GoJane's new athletic clothing collection will include yoga pants, bike shorts, sports bras and other unique and stylish activewear for a much lower price than comparable retailers.
Much of GoJane's new activewear category includes slim-fitting bottoms that are made for working out. Breathable capris and leggings feature multicolored patterns, colorblocked designs and athletic-style stripes, and they come in a variety of sizes. The collection also includes loose gym shorts and bike shorts for outdoor exercise. Shoppers will be able to purchase affordable sports bras in cute, fashionable styles and colors from GoJane as well.
"These items pair perfectly with GoJane's racerback tanks and sleeveless athletic tops, and they can be mixed and matched in a wide variety of ways," said Malinn Cisneros, GoJane's blog editor. "And for chilly weather, the collection will also include zip-up hoodies and exercise jackets in simple shades and stylish colors."
GoJane's athletic apparel collection even includes comfortable and supportive athletic shoes that are priced much lower than those from big name brands. These tennis shoes and sneakers feature fun animal prints, metallic exteriors and bright, colorful designs all over their surfaces, while their bottoms are equipped with enough tread to make working out safe and secure.
While workout apparel can be very expensive, GoJane aims to make it more affordable for young women with their new collection of trendy and cheap workout clothes.
GoJane is an online retailer of fashion-forward apparel for progressive young women. The website offers all of the latest trends in clothing and accessories for a fraction of the cost of designer brands. GoJane's helpful customer service team is available five days a week, and their 30-day return policy makes finding the right size fast and easy.