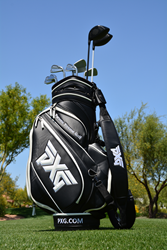 I believe success is part passion, part perspective, part luck and a whole lot of effort – kind of like a round of golf.
Scottsdale, AZ (PRWEB) April 30, 2015
Six-time PGA TOUR and two-time Champions Tour winner Rocco Mediate has signed an equipment endorsement deal with Parsons Xtreme Golf (PXG). Mediate joins PGA TOUR golfer Ryan Moore on the PXG tour professional staff. Both Mediate and Moore are playing PXG 03x irons, PXG 0317 hybrids and a PXG 0811 driver.
"I believe success is part passion, part perspective, part luck and a whole lot of effort – kind of like a round of golf," said PXG founder Bob Parsons. "I've recruited top talent to develop the finest clubs ever played and am committed to seeing the clubs in the hands of golfers, like Rocco and Ryan, who share PXG's drive for success."
Mediate, who began using PXG clubs in tournament competition a few weeks ago, finished in third place at the rain-shortened Greater Gwinnett Championship and tied for 10th with teammate Lee Janzen at the Bass Pro Shops Legends of Golf at Big Cedar Lodge tournament this past weekend.
"In the short time I've been playing PXG equipment, I've seen incredible performance gains," said Mediate. "I love the look, feel and forgiveness of the clubs. It just doesn't get any better."
PXG designs and develops high-performance golf clubs using premium alloys and patented technology. The company has developed a sophisticated manufacturing process for its irons that includes forging, high precision CNC milling, robotic plasma face welding and injection molding. High-density tungsten alloy screws, which create the irons' signature look, are the foundation for a one-of-a-kind weighting system. Similar to the irons, but leveraging 16 screws versus 11, PXG's driver uses moveable weight technology to enable every club to be strategically fitted for an individual.
Mediate played 27 seasons on the PGA TOUR and is currently in his third full season on the Champions Tour. With over $19 million in career earnings, Mediate's biggest career moment came at the 2008 U.S. Open at Torrey Pines South Course. Mediate went toe-to-toe with Tiger Woods in an 18-hole, plus one sudden death hole playoff.
An official release date for PXG clubs for consumers has not been set, but the company expects them to be available for purchase in late summer 2015.
For more information about Parsons Xtreme Golf visit, http://www.PXG.com.
About Parsons Xtreme Golf (PXG)
Parsons Xtreme Golf (PXG), based in Scottsdale, Arizona, was founded by GoDaddy founder, businessman and philanthropist Bob Parsons in 2014. Parsons recruited top talent to develop the unique technology behind the easily recognizable clubs. Joining Parsons at PXG are golf club designers Mike Nicolette, who competed on the PGA TOUR for nearly a decade, and Brad Schweigert, who holds more than 150 golf-related patents. Using patented technology and sophisticated manufacturing processes that integrate high performance alloys and elastomers, PXG produces the finest golf clubs in the world. To date, the company has been awarded nine patents for its proprietary designs.