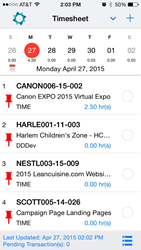 Nexelus offers ad agencies an intuitive, simple to use app that makes it fast and easy to enter time
New York, NY (PRWEB) April 29, 2015
Nexelus http://www.nexelus.net the leading provider of cloud based operational software for global advertising agencies, is pleased to announce the launch of its mobile app. The first commercial version is focused on timesheet functionality and is available immediately on both Android and iOS platforms.
Focusing on Timesheet functionality, Nexelus offers an easy and simple to use app which works in both online and offline mode to enable users to complete their timesheet on time. Timesheet entry via the app can be done in just a few minutes from anywhere. It offers the mobile workforce an intuitive, user-friendly experience that makes it fast, easy and efficient to enter and submit time, and includes a graphical view of their billable time as a chart/dashboard.
Nexelus is committed to further development of the mobile platform in 2015, including, expense reports, workflow approvals (contracts, budgets/estimates, media plans, etc.), alerts and notifications, and dashboard analytics.
Built on the latest .NET web services technology, Nexelus™ 9.0 offers global agencies a unified SaaS solution to streamline and optimize business processes across multiple entities and communications disciplines, including, digital, media, strategy, production, technology, promotions and public relations.
About Nexelus. Nexelus is a leading provider of cloud based operational software for global agencies. Nexelus automates an agency's operational processes from a single dashboard interface, including, project and workflow management, resource management, capacity planning, digital media planning-buying-billing-reconciliation, time management, expense reports, purchasing, billing and invoicing, client profitability, and analytics.
Contact:
John H. Pollok
Tel: 646-558-1953
http://nexelus.net
© Copyright 2015 Nexelus™. All rights reserved
###