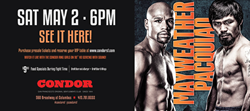 San Francisco, CA (PRWEB) April 27, 2015
Condor Club is screening the upcoming mega boxing match between Floyd Mayweather, Jr. and Manny Pacquaio. The event is being called "The Fight of the Century," and Condor is getting guests in on the action. They're inviting guests to come watch the fight live at 6 p.m. on Saturday, May 2.
"At Condor Club, we're always providing our guests with the best in entertainment, and this fight is no exception," said Axel Sang, Director of Marketing at BSC Management. "With tons of seating options, drink and food specials and the company of the Condor Ring Girls, there's no better place to watch!"
Condor Club will be screening the fight live on 90" HD screens with sound. Guests can also take advantage of the drink and food specials available during fight time. For $9.95, guests can get a draft beer with the option of a burger or wings.
Guests are encouraged to purchase their tickets early as this must-see event is sure to fill up fast. Tickets can be purchased online here. General admission tickets cost $35. Guests can also reserve a table for four for $100 or a section for ten for $200 to guarantee seating. Admission must be purchased separately. All guests must be 21 and older.
Condor Club is located at 560 Broadway St. in San Francisco, CA. For more information, call 415-781-8222 or visit their website.
Condor is San Francisco's original gentleman's club. In 1964, they became the first topless club in the United States. Since then, they have provided the Bay Area with quality adult entertainment and superior service. The club features a VIP lounge, champagne rooms, bottle service, topless dancing and concierge services, all in an effort to provide their guests with a special and exclusive experience. Everyone is sure to have a good time at Condor. With live music, a full bar and restaurant and topless adult entertainment, there's no better gentleman's club around. Condor Gentleman's Club is open 4 p.m. – 2 a.m. Monday through Thursday and 12 p.m. – 2 a.m. Friday to Sunday. For more information, visit their website or call 415-781-8222.