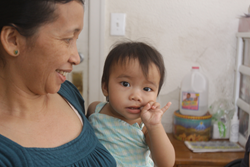 Chicago, IL (PRWEB) May 05, 2015
On Mother's Day, stores will be selling out of flowers and chocolates, but a gift that ends poverty is one that lasts long after flowers wilt.
Many low-income mothers are just eeking by, struggling to get the things they really need to get by - a visit to the doctor so they can get healthy, job training, or a safe home where their families can live. Sending a Mother's Day card from Heartland Alliance helps these hard-working mothers breathe easy this Mother's Day.
Heartland Alliance will also send your mom a really nice card letting her know you've done something special not just for her but for those who are struggling to get by, and you'll know you've given a gift that really makes a difference. Isn't that more special than a truffle?
To give a gift in honor of your mom this Mother's Day, visit http://www.heartlandalliance.org/mom
ABOUT HEARTLAND ALLIANCE
Heartland Alliance is the leading anti-poverty organization in the Midwest and believes that all of us deserve the opportunity to improve our lives. Each year, we help ensure this opportunity for more than one million people around the world who are homeless, living in poverty, or seeking safety. Our policy efforts strengthen communities; our comprehensive services empower those we serve to rebuild and transform their lives. For more information, visit: http://www.heartlandalliance.org.
# # #