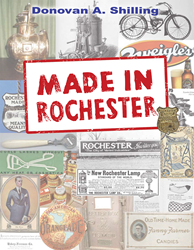 Victor, New York (PRWEB) April 29, 2015
Rochester, New York, has long been known for its leadership in optics, copying and photography. However, many manufacturers that began in Rochester have changed the world. Many national and international companies as well as clothiers and shoe manufacturers got their start in Rochester. Read the Stories of more than 165 Rochester born companies in "Made in Rochester", the new book by Penfield author and historian Donovan A. Shilling.
Shilling, a retired school teacher and administrator, has amassed a vast collection of products, company photos and advertising material from companies that significantly contributed to Rochester's growth. He notes that these products were sold around the world. Most of the hundreds of products and photos that illustrate the book are from Shilling's personal collection.
Readers may remember some of the companies featured in the book and they may have only heard of others. One thing's for sure, though, they won't want to lay this book down until they read all the way from A. H. Shipman (machinery) to Zweigles (sausage products).
"Made in Rochester" is available for $49.95 at select bookstores and online at pancoastpublishing.com and amazon.com. In addition to his latest work, Shilling has collaborated with Pancoast Publishing on books tracing the growth of live theater in Rochester and on Rochester's contribution to the movie industry, as well as four collections of short historical stories about Rochester and a historical novel about life on the Erie Canal.
Pancoast Publishing is a division of The Pancoast Concern, Ltd., a 30 year old marketing communications agency headquartered in Victor, NY.