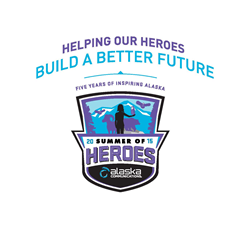 ANCHORAGE, Alaska (PRWEB) April 28, 2015
Today, Alaska Communications announces the kickoff of its annual Summer of Heroes program in partnership with Boys & Girls Clubs – Alaska. Celebrating its five-year anniversary, the program recognizes five young Alaska heroes, plus one from the Employee Program, who are making a difference and inspiring change in Alaska communities. Each of the selected heroes will be awarded a $1,500 scholarship through the UA College Savings Plan and a trip to a special recognition ceremony at the Alaska State Fair. The nomination period runs from April 28 to July 15.
In addition to recognizing local heroes, Alaska Communications will donate $25 to Boys & Girls Clubs – Alaska for every new Home or Business Internet contract signed between April 28 and July 15, 2015, up to $15,000 total. Since 2011, Alaska Communications has contributed a total of $60,000 to Boys & Girls Clubs – Alaska through the Summer of Heroes program. One of the leading youth development organizations in Alaska, Boys & Girls Clubs – Alaska has lost millions of dollars in funding over the last several years due to the decline of federal grants. Alaska Communications' contributions have helped the organization continue to provide high-quality youth development programming in 32 communities throughout the state.
"One of the keys to building a better future for Alaska is to provide our youth with the resources and the role models that they need to become thoughtful and successful adults," said Alana Humphrey, CEO of Boys & Girls Clubs – Alaska. "We're grateful for the generous support the Summer of Heroes program has provided to the Boys & Girls Clubs – Alaska, and are proud to continue our partnership with Alaska Communications as we celebrate the five-year anniversary of this impactful program and search for the 2015 heroes."
Parents, teachers, mentors, coaches and friends are encouraged to nominate the young heroes in their lives. A hero can be any youth, ages 6 to 18, who has made a significant contribution to his or her community through acts of generosity, courage or achievement.
Throughout the first four years of the annual Summer of Heroes program, Alaska Communications awarded 24 youth heroes each with $1,500 scholarships, for a total of $36,000. Each of these 24 heroes was nominated by someone in their life for their efforts to give back to the community. Examples include raising funds to keep a local school from shutting its doors, teaching other children about the importance of wildlife safety, serving as a volunteer firefighter, donating birthday gifts to impoverished families, and raising money for life-threatening illnesses, to name a few.
"At Alaska Communications, we believe it's important to recognize and empower the future leaders of Alaska. Each year it's a pleasure to meet these young heroes who are making a difference in our communities," said Anand Vadapalli, Alaska Communications president and CEO. "The diversity of causes and actions supported by our heroes from the last four years is a testament to the people and culture of our state – Alaska is truly a special place to live and we are proud to recognize those who aim to make it even better."
Alaskans can nominate themselves or others by filling out the online nomination form. The deadline for nominations is July 15. Visit the Summer of Heroes website for program rules and details about the nomination process.
Alaska Communications is also seeking help from businesses and individuals in our search for the 2015 heroes. To learn about how you can get involved, please visit http://www.alaskacommunications.com/summerofheroes. Keep updated on Summer of Heroes initiatives and events by connecting with Alaska Communications on Facebook, LinkedIn, and Twitter.
About Alaska Communications
Alaska Communications is a leading provider of advanced broadband and IT managed services for businesses and consumers in Alaska. The company operates a highly reliable, advanced statewide data and voice network with the latest technology and the most diverse undersea fiber optic system connecting Alaska to the contiguous United States. For more information, visit http://www.alaskacommunications.com or http://www.alsk.com.
About Boys & Girls Clubs – Alaska
Boys & Girls Clubs – Alaska has 30 sites statewide, which offer programs before and after school and during school breaks for youth and teens, 7-18 years old, as well as athletics and licensed childcare programs. Mission is fulfilled through guidance-oriented character development activities conducted in safe, warm and fun environments by trained, professional staff. Key programs emphasize academic success, good character & leadership, healthy lifestyles, the arts, sports, fitness and recreation. Learn more about programs and activities offered by Boys & Girls Clubs - Alaska at http://www.bgcalaska.org or 907-248-5437.