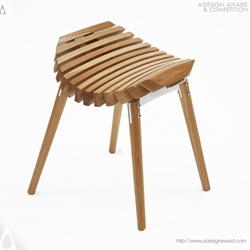 Como, Italy (PRWEB) April 28, 2015
A' Design Award and Competition is pleased to announce that the design project Ane by Troy Backhouse has been announced as a winner of the Platinum A' Design Award in Furniture, Decorative Items and Homeware Design Competition Category.
More on Ane
Troy Backhouse, the project leader of the award winning furniture design Ane said, "The Ane stool has solid timber slats of timber that appear to float harmoniously, yet independently from the timber legs, above the steel frame. The designer states that the seat, hand crafted in certified eco-friendly timber, is formed through the unique use of multiple pieces of one shape of wood positioned and cut in a dynamic way. When seated on the stool, the slight rise in angle to the back and the roll off angles on the sides are finished in a way that provides a natural, comfortable sitting position. The Ane stool has just the right degree of complexity to create an elegant finish." Learn more at: https://competition.adesignaward.com/design.php?ID=39082
The Platinum A' Design Award
The Platinum A' Design Award is a prestigious design award given to top 1% percentile designs that has delivered an exemplary level of greatness in design. Entries to the A' Design Award & Competition are peer reviewed and anonymously voted by a grand jury panel consisting of design professionals, prominent press members as well as established scholars. Laureates of the A' Design Award & Competition are given the A' Design Prize which includes a series of PR and publicity tools such as inclusion in World Design Index to help promote the winners. The A' Design Prize further contains of a 3D printed metal trophy, the design excellence certificate, the yearbook publication, exhibition and gala-night invitations as well as translation of awarded entries to over 40 languages.
About A' Design Award and Competitions
The A' Design Award & Competition was established to create a global awareness for good design practices and principles by highlighting the very best design work from all countries in all creative disciplines. The ultimate aim of the competition is to push designers, architects, product manufacturers and service providers worldwide to create superior products that benefit society. To learn more about the A' Design Award & Competition visit: http://www.whatisadesignaward.com