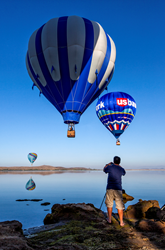 "We had the opportunity to bring great stars like Chris Young and Daughtry to Southern California Wine Country and took it," said Andrea Jacobson, operations manager for the Festival.
Temecula, CA (PRWEB) April 29, 2015
Catching the country wave sweeping the U.S. music industry, the Temecula Valley Balloon & Wine Festival will feature two days of Country Music on the Main Stage sponsored by Pechanga Resort & Casino. Country Friday, a traditional country day will feature Gloriana, Love and Theft, and Chase Bryant. Sunday, a departure from the Freestyle Motocross Show, will feature Chris Young, currently No. 4 on the Billboard Charts, with "Lonely Eyes." The hit is No. 2 on Billboard's Country station playlist. The Festival is May 29-31, 2015
Gloriana, currently with the song "Trouble" No. 29 on the Country airplay list, makes a return visit to the Festival stage. The group's 2009 debut album spawned a gold-certified hit single with "Wild At Heart." In 2010 Gloriana won the Academy of Country Music Award for Top New Vocal Group. Their hit song "(Kissed You) Good Night" made No. 2 on the charts and was certified platinum in the United States.
Love and Theft first galvanized fans in 2009 with the Top 10 hit "Runaway." That breakthrough success set the stage for their debut album "World Wide Open," which produced the hit single "Dancing In Circles." After a move from the Carolwood label to RCA, the duo (Stephen Barker-Liles and Eric Gunderson) scored their first No. 1 single with "Angel Eyes," which was featured on Love and Theft's self-titled second album.
Relative newcomer, Chase Bryant has quickly made a name for himself on the Country scene. Bryant's debut single, "Take It On Back," was a top 10 smash and one of the fastest rising singles of 2014 by a male country artist. His video (http://hyperurl.co/4ltp7z) "Take It On Back" spent 14 weeks on the CMT Hot 20 Countdown and a Top 20 Most Watched Video on VEVO TV Nashville.
Plain White T's joins Daughtry for the Rockin' Country Saturday lineup. Plain White T's is best known for their mega hit "Hey There Delilah." The 18th most downloaded song of all time, is just one in a string of hits that includes "1,2,3,4" and "Rhythm of Love." Currently on a European tour, the group released their new Indie album "American Nights" March 31. The album includes singles "Pause," "Stay" and "Love Again." Fans can see the "Pause" video at https://youtu.be/vAnChA7HrbU .
Daughtry, a band carrying the name of the lead singer and guitarist Chris Daughtry, with four No. 1 hits, four Grammy nominations, four American Music Awards, and over 8 million albums sold, will headline the Saturday concert lineup.
Chris Daughtry gained notoriety during "American Idol" Season 5 and immediately signed with RCA Records. Daughtry's self-titled debut was the fastest selling rock debut in Soundscan history and its follow up "Leave This Town" marked the quintet's second consecutive No. 1 album. Daughtry's third album "Break The Spell" was certified gold within four weeks of its release. "Baptized," Daughtry's fourth album peaked at No. 3 with the singles "Waiting for Superman," and "Long Live Rock & Roll." Other hits include "Home," "Feels Like Tonight," and "What About Now."
Saturday also features a special fusion jazz concert with the band Tizer immediately following the evening balloon glow. This multi-cultural band is led by keyboardist/composer Lao Tizer and provides a scintillating mix of fresh world-fusion music with African American violin great Karen Briggs and guitarist/composer Chieli Minucci.
Country sensation Chris Young will headline the Pechanga Main Stage on Sunday. At the age of 29, Young, was dubbed as "one of country music's most reliable hit makers" by USA Today. A Grammy-nominated recording artist, Young's chart toppers include "Gettin' You Home," "The Man I Want To Be," "Voices," "Tomorrow," "You" and "Who I Am With You." He's amassed six No. 1 singles, seven Gold/Platinum certifications.
Nearly every dawn in Southern California Wine Country, the photogenic hot air balloons dot the skies like giant colorful lady bugs. Enrapt in a glorious sunrise that slowly peaks over the vineyards, the graceful orbs in the sky are part of Temecula Valley's culture. Viewing this colorful scene from a Lake Skinner campsite is just the beginning for guests at the three-day event.
The Festival combines the valley's greatest assets into a weekend showcase of massive dawn hot air balloon launches, evening balloon glows, wine tasting from up to 20 wineries, and chef demonstrations with food and wine pairings, and cooking with craft beers and food pairing extravaganzas.
The Temecula Valley Balloon & Wine Festival is held at Lake Skinner Recreation area in the heart of Temecula Valley Wine Country, and north of San Diego County border. For Festival information visit http://www.tvbwf.com or call (951) 676-6713. The Festival also has a mobile app at bit.ly/tvbwf or Temecula Balloon in app stores.