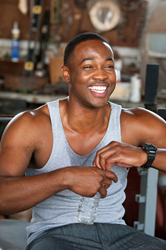 I do everything I do to glorify God.
Atlanta, GA (PRWEB) May 02, 2015
The AMTC team will be searching for local talent in two cities on May 11, 2015. Professionals and amateurs, ages four and up, are invited to participate in the free auditions.
For over 30 years, AMTC has served as a "bridge" for actors, models, singers, dancers and comedians. Recently, AMTC grad Ser'Darius Blain starred in the film, "When The Game Stands Tall," inspired by the true story of De La Salle High School football team's winning streak. He speaks about honoring God in the industry. "I do everything I do to glorify God. God gave me talent; He gave me gifts in order to magnify Him," Blain says.
AMTC scouts are professionals who believe in mentoring the next generation of upcoming artists. After the initial scouting event, select talent will be invited to participate in more intensive programs and training. The scouts for the May 11 auditions are Jaco Booyens (Monroe) and Adam She (Atlanta).
Jaco Booyens is an actor, model, professional athlete and director. He and his wife Philipa own After Eden Pictures where he recently directed 8 DAYS, a powerful film dedicated to raising the awareness of human trafficking.
As Executive Director of AMTC, Adam She works with the Board of Directors to oversee the ministry of Actors, Models and Talent for Christ. Adam is an international Christian leader whose goal is to find, prepare and lift God's talent to influential positions in the entertainment industry. He is married to a third generation daughter within the Millie Lewis legacy, Lexy She.
Actors, Models and Talent for Christ is an organization offering the Bridge Training Program and a six-day international SHINE Conference. The organization trains performers in both improving their gifts and reflecting Christ, while connecting them to an array of entertainment industry professionals.
To register and learn more about AMTC auditions, please visit http://www.amtcaudition.org.