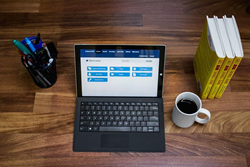 EndeavorCPQ 9 makes the most of time spent generating quotes and proposals. -Sean Myers, CEO
Dallas, TX (PRWEB) May 11, 2015
Endeavor, a leader in Configure-Price-Quote software solutions, is proud to announce its latest product release, EndeavorCPQ 9. Available beginning Q2 2015, EndeavorCPQ 9 features improved transaction speed, a mobile-first responsive user interface and new approval workflow functionality.
Developed with the modern sales person in mind, EndeavorCPQ 9 is for on-the-go customer education experts that need pricing and product data quickly and at the tip of their finger.
Among many improvements to the platform, here are the new version highlights:
Performance: Through re-engineering and optimization, the robust EndeavorCPQ 9 rules engine runs three times faster than previous platforms. This allows sales professionals to move through building a complex business quote or proposal quicker, getting it into the hands of potential client sooner.
Responsive UI: Built with a mobile-first mindset, now every part of the quoting and proposal generation process in EndeavorCPQ 9 can be done on any device with any size screen.
Approval Workflows: For businesses requiring approval on special orders, discounting, or unique configurations, this new feature of EndeavorCPQ 9 automates the process. Any number of groups consisting of any number of people can be built into an approval workflow, so the right people are instantly notified when an important quote is on the table.
Sean Myers (CEO and Co-Founder) says the latest version of EndeavorCPQ reflects the changing times in sales. Sales professionals understand the precious commodity of time, and want to make the best offer about product and pricing to an educated consumer. EndeavorCPQ 9 helps make the most of time spent generating quotes and proposals through a fluid and comprehensive process that results in accurate offers.
About Endeavor
Celebrating its 15th anniversary in 2015, Endeavor is a leader in cloud-based Configure-Price-Quote (CPQ) software solutions. EndeavorCPQ automates the sales quote-to-order process, empowering sales professionals to spend more time in front of customers and less time behind their desk. A cloud-based, go-anywhere software, EndeavorCPQ pulls data from leading CRM and ERP systems, eliminating errors and ensuring accurate backend updates. To schedule a demo or learn more, visit http://www.EndeavorCPQ.com.