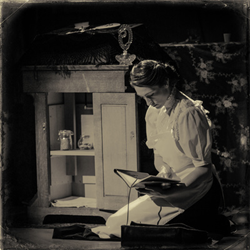 "We are creating an intimate and provocative form of theatre, and an immersion experience that is as intellectually stimulating as it is titilating"
New Orleans, LA (PRWEB) April 29, 2015
"Storyville Rising," a fusion of classic burlesque with spoken word, improvisational theater and cabaret that has won an international award for excellence, will return to New Orleans May 16-17 at Cafe Istanbul. "Storyville Rising" won the burlesque industry's equivalent to an academy award, "The Brassy," for a concept and script that comes from hundreds of hours in historical research, and explores issues of race, gender, power, sex, public health, class, and sexuality. This limited run of "Storyville Rising" has been dubbed 'the ultimate burlesque event of 2015' by industry peers, and has attracted actors that specialize in historical costume and theater as well as award-winning burlesque performers from across the country.VIP seating, Ultimate VIP experience packages, and a limited number of general admission tickets are available at http://www.storyville2015.bpt.me, or by calling Brown Paper Tickets' 24/7 event concierges at 1-800-838-3006.
"Weaving burlesque with other performance arts, using props and costumes with historical realism, and casting performers with extensive experience in historical performance makes "Storyville Rising" transcend its theater genre," said Jimmy Berg, burlesque industry specialist for Brown Paper Tickets, and a co-creator of The Brassy Award.
"The point of the show is to bring burlesque to another level of intellectual discourse, and to push the boundaries of what we do with it as a performance art," said von Wunderkammer, co-creator and producer of "Storyville Rising." "Just as in all other theatre arts, we can use burlesque to explore themes that affect us all in a way that's deeply personal."
Through on-and-off stage interactions, audiences and performers in "Storyville Rising" will explore and provoke conversations and a reflection on today's social issues, such as race, gender, power, sex, public health, class, and sexuality. "We are creating an intimate and provocative form of theatre, and an immersion experience that is as intellectually stimulating as it is titillating," said von Wunderkammer.
Instead of ushers, audience members will be greeted by residents of Storyville; madams, working girls, johns looking for a good time, a traveling snake oil salesman, a concerned midwife, and others. Instead of a program, attendees will be handed a "Blue Book," written by local writer and travel journalist, Paul Oswell, that mirrors a guide that was produced in the early 1900s to tell visitors about the district's "sporting houses" and the ladies that occupied them.
Winning The Brassy has attracted award-winning performers from Chicago, Seattle, Atlanta, Las Vegas and Ireland to perform in a production that has been recognized for excellence in story and character development as well as for it's artistic merits. Jeez Loueez, winner of the 2012 "Miss Viva Las Vegas" pageant who was also voted the 14th most popular burlesque performer in the world by '21st Century Burlesque,' will be portraying one of Storyville's exotic Octoroon prostitutes that made the district famous.
The sporting houses employed house musicians who became integral to creating the jazz music that attracted so many people to Storyville, and to New Orleans. Emma Johnson, an infamous resident of Storyville who was known to be queer, is often considered to be one of the great villainesses of the district. She ran a house that specialized in sex circuses, and was known to auction off virgins to the highest bidder, which the actor playing her character will be doing in this show.
Local performance artist Shadow Angelina will be reprising her spoken word piece that speaks to power dynamics of the age, as she portrays a prostitute trying to move her way up into becoming a madame. Jesse Belle Jones will also be reprising her appearance as a midwife trying to help the working girls of Storyville with as many of their issues as she can. She walks through the room, checking on the women and appears periodically on stage, washing rags as a metaphor for cleanliness.
Other featured performers include Irish burlesque queen, Bella A Go Go, the Reverend Tommy Gunn, founder of the award-winning FreakShow Deluxe, Po' Chop, the BAMF of Burlesque from Chicago, Sadie Hawkins, an aerialist, burlesque, and fire performer from Atlanta, Jesse Parce, a cellist and performer from Seattle, and local performers Angie Z, Dr. Sick, Dante the Magician, Reby Rae, Michael Martin, and the Dapper Dandies.
VIP tickets will include table seating with an extra chair so that various characters can visit and even share a drink with those audience members throughout the show. Ultimate VIP Packages include the perks of VIP seating plus signed editions of the Blue Book being produced exclusively for the event, a free drink from Storyville Rising's signature drink menu, crafted by local mixologist Zak Maust, and a photo with the cast. General admission seating offers an unsigned commemorative Blue Book and the unique theatrical experience that is Storyville Rising.
For more information, go to http://www.storyvillerising.com.
###
EDITOR'S NOTE: For further information, high resolution photos, in-studio or telephone interviews with stars of the event or with producers of the show, please contact Kali von Wunderkammer at storyvillerising@gmail.com or at (504) 322-8862
About Storyville Rising
"Storyville Rising" (http://www.storyvillerising.com) is an immersive cabaret aimed at recreating the feeling and multi-layered experience of Crescent City's (in)famous red light district. Audience members are invited into an evocation of one of The District's sporting houses and treated to a spectacle of burlesque, sideshow, cirque and song. Throughout the evening, they will interact with the area's various denizens: prostitutes, johns, doctors and midwives, and, of course, madams. Through the acts performed by some of the most lauded names in the burlesque and vaudeville revival, "Storyville Rising" explores issues of race, gender, power, sex and more. It is a truly unique experience, meant to remain with you long after you've left its embrace.
About Brown Paper Tickets
Brown Paper Tickets (http://www.brownpapertickets.com) is the socially conscious global leader in online ticketing and event registration, helping people in 68 countries plan, promote and sell out events. As a social innovator, the company donates 5 percent of profits to charity with every ticket sold, supports a team of full-time community advocates, called "Doers," and still charges the lowest fee for ticketing and services in the ticketing industry. To learn more about the world's only Not-Just-For-Profit ticketing company, visit http://community.brownpapertickets.com/press/.