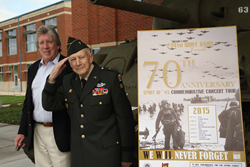 Today is the 70th anniversary of the day American troops first came face to face with the horrors of the Holocaust.
Portland, OR (PRWEB) April 29, 2015
Retired Army Brigadier General James B. Thayer, Sr. stood in front of a Sherman tank this week to urge the public to commemorate the 70th anniversary of the end of World War II this August.
"Today is the 70th anniversary of the liberation of Dachau on April 29, 1945, the day when American troops came face to face with the horrors of the Holocaust," said Thayer, 92. Thayer joined the U.S. Army in 1942, and earned the Silver and Bronze stars for his combat heroics, which included liberating more 15,000 Jewish prisoners of a Nazi death camp in Gunskirchen in north central Austria in early May 1945.
He said the experience left him with indelible memories.
"As we entered the camp, the living skeletons still able to walk crowded around us and, though we wanted to drive farther into the place, the milling, pressing crowd wouldn't let us," said Thayer. "Just the sight of an American brought cheers, groans and shrieks. People crowded around to touch an American, to kiss our arms -- perhaps just to make sure that it was true. The people who couldn't walk, crawled out toward our jeep. Those who couldn't even crawl propped themselves up on an elbow, and somehow, through all their pain and suffering, revealed through their eyes the gratitude, the joy they felt at the arrival of Americans."
When Thayer was on a tour of concentration camps organized by the U.S. Holocaust Council in 1992, he was approached by a man who was 14 when the Americans arrived at Gunskirchen. He told Thayer he would have been dead if they had come 24 hours later.
Gen.Thayer was Special Assistant to the Executive Director the Department of Defense for the WWII 50th Anniversary Commemoration, and is serving as an advisor to "Keep the Spirit of '45 Alive," a grassroots coalition of organizations that convinced the U.S. Congress to unanimously vote in 2010 in favor of an annual national "Spirit of '45 Day" that honors the men and women of the WWII generation, and is now promoting the commemoration of the 70th anniversary of the end of WWII this August (http://www.Spiritof45.org). Thayer is the honorary chair for Oregon Spirit of '45.
The WWII 70th Anniversary Commemorative Weekend will kick off with a mass "Kiss In" in Times Square at noon on Friday, August 14. Community events are being organized throughout the country that will include flyovers by WWII airplanes, swing dances and concerts, rallies of Rosie the Riveter lookalikes, and intergenerational activities hosted by senior living residences. The Weekend will conclude with an around the world Tribute on Sunday, August 16, when more than 1,000 buglers will perform "Taps" at wreath laying ceremonies at cemeteries, memorials and other locations in the Pacific, Europe and North Africa, and the United States.
Iowa Governor Terry Branstad is calling on his fellow governors to issue supporting proclamations in their states, and local elected officials are being asked to help support 70th Anniversary events and activities in their communities.
Oregon, which passed a state law in 2013 officially designating a "Spirit of '45 Day," to be observed every August, is planning multiple events to mark the 70th anniversary, including a series of concerts featuring the Oregon National Guard Band, and wreath laying ceremonies at national and state VA cemeteries, veterans memorials and other locations throughout the state.
A campaign is underway to raise $16 million to renovate a former Army training camp that will be dedicated to Gen.Thayer in recognition of his more than seven decades of military and civic service. Thayer's youngest son is the lead guitarist for the rock band Kiss, which recently raised more than $1 million in single event. The band's founder and famous frontman, Gene Simmons, is the son of a Holocaust survivor.
"I owe a debt of gratitude to Gen. Thayer," said Simmons. "Meeting him is a humbling experience."
"General Thayer is an inspiring example of the qualities that made the greatest generation great," said Barbara Jensen, who has been leading the Keep the Spirit of '45 Alive effort in Oregon, and has her own personal family connection to WWII: her English mother, Joy Beebe, and her father, a young U.S. Army private, were married 70 years ago on April 28, 1945.
"It's up to us Baby Boomers, and our children, to remember how our parents' generation literally saved civilization and helped ensure a better future for all mankind. That's what the 70th Anniversary is all about, keeping their Spirit alive!"
For more information, visit http://www.Spiritof45.org