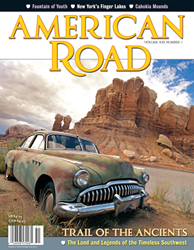 Detroit, Michigan (PRWEB) May 01, 2015
American Road's journey to yesterday starts in the American Southwest. "Trail of the Ancients" traces its roots to a time when Utah pioneer Albert R. Lyman discovered the prehistoric dwelling he called "Soose Castle" and began piecing together the history of the vanished people. His work inspired a movement that created a scenic byway from the Four Corners area through Colorado and Utah and into Arizona, picking up primordial dust with every mile. We look at the road through the legends that arose from its landscape—tales of Coyote, Spider Woman, and the Twin Hero gods.
"American Road's Oldies and Goodies" is the latest compendium piece, and it presents a collection of the country's oldest things. Among its twenty-one vignettes, you'll meet Granddad, the Queensland lungfish who's resided in Chicago since 1934; the creosote ring hailed as King Clone; the country's longest-burning lightbulb; and Martinka's, the nation's oldest magic shop. Say "Abracadabra" and time stands still.
After an outing that explores the stony furrows that are New York's Finger Lakes, we search out the Fountain of Youth; dig up the old birdman at Cahokia Mounds; dig into the singing sand near Fallon, Nevada; and dig down into Grand Caverns, the oldest continually operating showcave in America.
About
American Road® is an award-winning periodical published quarterly by Mock Turtle Press, distributed internationally by Disticor, and now available at newsstands and fine bookstores. American Road® also offers a digital edition and an iTunes app for the iPad.
Americanroadmagazine.com provides the visitor with tools to discover that hidden landmark and make new memories on the road less traveled. Readers will find sponsored downloadable trip itineraries that make travel planning a breeze, as well as the American Road® Forums—the ultimate road trip community.
To preview the current issue, visit: http://americanroadmagazine.com/previewmag.html