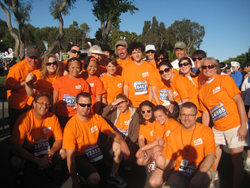 "We are very excited to partner with this amazing team of survivors in our efforts to raise money for victim aftercare. They understand the desperate need for restorative services for survivors of sex trafficking more than anyone. President, Tony Guerrero
Orange County, CA (PRWEB) April 30, 2015
Fight Against Child Trafficking (FACT) Alliance and their "Let's Respond" Campaign, an Orange County based 501(c)(3) non-profit, will be sponsoring a team of marathon participants comprised of human trafficking survivors at this year's OC Marathon on Sunday, May 3, 2015 at Costa Mesa, CA. FACT Alliance's mission is to spread awareness of global sex trafficking of children and to raise funding for the building and sustaining of aftercare homes for victims, both domestically and internationally.
The survivors will take part in either the half marathon, the 5K run, or will be present at the charity's 25 mile water station. Each will be raising individual financial support for their participation; the money raised will be divided evenly between FACT Alliance's efforts and the individual survivor's own anti-trafficking efforts. FACT Alliance's "Let's Respond" Campaign is celebrating its fourth year as an official charity of the OC Marathon.
FACT Alliance has confirmed their "Let's Respond" Survivor Team which includes: Carissa Phelps from Central California, a well-known author and advocate for survivor's rights. Carissa graduated summa cum laude from UCLA, earning degrees in law and business after she was sex trafficked at age 12; Rachel Thomas from Pasadena, CA- survivor of human trafficking at the age of 20, she escaped in 2005, holds a Master's Degree in Education, and reaches millions with her message of awareness and prevention; Courtney Baldwin from Stockton, CA - a human trafficking survivor was psychologically coerced into trafficking at age 19 in January 2013 and escaped soon in May 2013. Today, her mission is to continue to fight for social change and help bring an end to the cycle of abuse; Robin Rivera from Pleasanton, CA - a human trafficking survivor was harbored and forced into trafficking at age 15 and stayed trapped in the commercial sex ring until she escaped at age 23. Robin dramatically changed her life to become a healthy mother. Today, she is on a mission to help others become Warriors of their own lives.
FACT Alliance Founder and President, Tony Guerrero, is excited about the team joining together to raise awareness and support the efforts for the Orange County based charity. "FACT Alliance is very excited to partner with this amazing team of survivors in our efforts to raise money for victim aftercare. They understand the desperate need for restorative services for survivors of sex trafficking more than anyone. The OC Marathon has been a great vehicle for our previous efforts and we anticipate more of the same this year," said Guerrero.
FACT Alliance's "Let's Respond" Campaign has raised thousands of dollars towards victim aftercare by supporting homes in California, the Philippines, and Romania. Through their partnership and collaborative efforts, they were able to open their first aftercare home for human trafficking victims in Goma - Democratic Republic of Congo, Africa in 2014.
FACT Alliance is a coalition of activists standing together to combat the global sex trade. Their focus is on partnering with existing organizations in the building and sustaining of aftercare facilities for domestic and international human trafficking victims around the world. These efforts are achieved via their "Let's Respond" Campaign, which provides public awareness regarding global sex trafficking and creating special fund raising initiatives. FACT Alliance also engages the artistic community to create a personal platform by which they can mobilize their fan base to join their efforts to combat human trafficking around the world.
Follow FACT Alliance on Social Media at: Facebook at @LetsRespondNow; Twitter at @LetsRespond and at YouTube. More information can be found at http://www.letsrespond.com.
For media inquiries and interviews please contact Kelly Bennett of Bennett Productions Unlimited, PR/Marketing/Branding Kelly(at)BPUnlimited(dot)com or (949) 463-6383.
Kelly Bennett, President
Bennett Productions Unlimited
(949) 463-6383
Kelly(at)BPUnlimited(dot)com
http://www.BPUnlimited.com