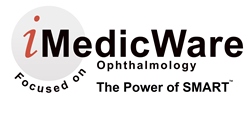 iMedicWare's integration with Topcon Synergy takes their robust image manager and makes it one of the most powerful tools that an ophthalmologist can have.
Freehold, New Jersey (PRWEB) April 30, 2015
iMedicWare, a leading provider of EHR and EPM software for the ophthalmic community, announces that its proprietary and innovative image management software now provides dynamic image manipulation features with the integration of Topcon Medical Systems' Synergy™. Via a single button in the Image Manager, a wide range of image manipulation functionalities are available to ophthalmologists using iMedicWare electronic health records.
Synergy™ is an ophthalmic data management system that integrates images and reports into a single view within iMedicWare. It also provides ophthalmologists with the ability to view, compare, annotate, manipulate, and transmit diagnostic testing images.
Topcon Synergy™ integration allows ophthalmologists to access not just a patient's diagnostic images, but the many data points that determine the structure and composition of these images. These data points can be manipulated and displayed in many different ways to assist with the task of interpretation. This gives iMedicWare's physicians the ability to make design adjustments long after an image has been captured, and even if they are on the other side of the world.
Features include, but are not limited to:

Ability to view and compare multiple images side-by-side on a single page
Flip and rotate images
Change the image's x or y axis easily
Add notes and comments to images
Color images can be viewed in alignment with black-and-white images at any time, not just during image capture
Quickly stitch together a series of images in order to view a wide area of the retina
With the integration of Topcon Synergy™, in addition to DICOM connectivity, iMedicWare users now have one of the most robust testing & image management systems, which has been specifically tailored for their ophthalmic practices' needs.
____________________________________________________
About iMedicWare, Inc.
iMedicWare Inc. is a leading provider of certified EMR/EPM and ASC software specifically designed for ophthalmologists. Founded in 2006, iMedicWare was created by a group of leading specialty ophthalmologists who sought to create an efficient, paperless, solution. They wanted a product specifically geared towards maximizing the efficiency of their practices, while also being comprehensive, easy to use, and customizable. Their different backgrounds allowed them to design software that would perfectly fit any ophthalmological practice, from general to pediatric ophthalmologists, including all ophthalmological subspecialties like neuro-ophthalmology, corneal surgeons, and retina specialists. The end result is that iMedicWare delivers the best, physician-approved, EMR, EPM, and ASC software solutions for ophthalmology practices and ambulatory surgery centers of any size, specialty, and scope.
For further information about this release please contact our Marketing Department at (732) 817-9475 or marketing(at)imedicware(dot)com