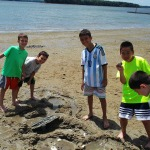 The hardest adjustment for any new camper is the first few days away from home, but once they feel more comfortable and part of the Wildwood family, we think they will be more eager to continue their summer adventure.
Bridgton, Maine (PRWEB) May 01, 2015
Camp Wildwood, a summer camp for boys ages 7 – 15 in Bridgton, Maine, will run a camp session beginning June 28 and lasting 4 weeks. For over 60 years, the camp has been a seven-week camp but this year will begin to offer another 4-week option to meet an increasing demand from parents and children. 4-week campers will depart Camp Wildwood on July 25th or 26th after visiting day.
Mark Meyer, co-owner and camp director, said: "Wildwood has always been and will continue to be a seven-week camp. However, we've found it time to offer a second option for children who only wish to stay 4 weeks."
"The hardest adjustment for any new camper is the first few days away from home," he added. "But once they feel more comfortable and part of the Wildwood family, we think they will be more eager to continue their summer adventure and of course will be offered the option to extend their experience."
While Camp Wildwood is an established and in many ways a traditional summer camp, there is nothing "old" about its approach to hosting 175 boys every year, or its state-of-the-art amenities and programs. The camp prides itself on the personal interest that staff show in the boys' growth and maturity, something that brings generation after generation back to the camp.
Camp directors Mark and Peter Meyer, have run the camp since 1980 and understand the stress that comes from sending young children to an overnight camp, so they take time to interview each candidate prior to enrollment to ensure that each camper is a good fit. In addition, they stay in contact with families throughout the year to ensure that Wildwood continues to meet the dynamic needs of campers as they grow.
"We strongly believe that the best way to teach children is to work and learn along with them," says Mark. "That is why we know each and every boy by name. Every night, as we say goodnight to each camper, we learn more about the individual. After all, it's at night when the day's activities have ended, that kids have time to talk about their successes, their concerns, and their problems."
The camp offers unparalleled amenities and activities that appeal to athletic and artistic boys alike:

The campgrounds are home to eight outdoor clay Har-tru tennis courts, three all-weather courts, four outdoor basketball courts, two of which have lower baskets to parallel the strength and skill of younger campers; two baseball fields, soccer pitches, football and lacrosse fields, an indoor and outdoor roller hockey rink, and a 4-hole par 14 golf course.
Watersports facilities include sailboats and canoes, water trampolines and surf bikes, with fun activities such as water polo, sailing, water skiing, canoeing, fishing, and paddleboarding.
Other individual sports include archery, a ropes challenge course with a 6 sided 50' climbing wall, bicycle moto-cross (BMX), and golf.
Inside there is a 24,000 square foot gymnasium, two full-size basketball courts, and the only indoor roller hockey rink in Maine.
For boys interested in the arts, Camp Wildwood houses an arts and crafts studio complete with a wood shop, pottery wheel and kiln, and WILD radio station. Camp Wildwood also offers yoga classes, along with fitness and nutrition workshops.
Kids get to choose their own activities and their adventures are uploaded to the website at the end each day so parents can see what they have been up to. While campers are housed and grouped according to ages and grades, cookouts and campfires every week bring the entire camp together to encourage camaraderie and brotherhood among all campers.
For additional information on Camp Wildwood, or to book a tour of the camp, please call 207.647.8864, or visit the website at http://www.campwildwood.com/.
###
About Camp Wildwood
Located on the secluded shores of Woods Pond in Bridgton, Maine, Camp Wildwood has flourished as a family-owned and -operated boys summer camp for more than seven decades. Bothers Mark and Peter Meyer actively manage daily operations and carefully invest in their staff, program, and facilities to equip and empower campers with an amazing summer and rewarding summer experience.
Camp Wildwood's mission is to create a fun, active, educational, positive, and safe environment for campers to maximize their social and personal development. The Meyers strive to promote social balance, diversity, and positive growth in the Camp Wildwood community.
Mark Meyer attended Camp Wildwood as a boy and worked his way up through the ranks of camp staff. He and his brother, Peter, purchased the camp in 1980 and have since served as the Camp Directors with their wives. After more than 30 years in the industry, Mark and his wife, Lisa, along with Peter and his wife, Esther, have been able to enjoy watching campers grow from boys into men. Many campers grow up to send their own sons to Wildwood and continue a family tradition that spans generations.