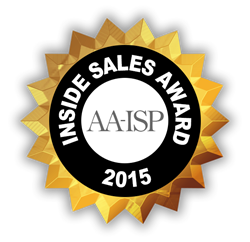 "The AA-ISP believes that people, not process, is an Inside Sales organization's most valuable resource."
Minneapolis, MN (PRWEB) May 06, 2015
AA-ISP (American Association of Inside Sales Professionals) has recognized leading Inside Sales professionals, organizations, and service providers in the Annual Awards Luncheon at the 7th Annual AA-ISP Inside Sales Leadership Summit on April 22nd.
The Leadership Summit was held in Chicago, Illinois, and featured presentations from more than 75 of today's most recognized Inside Sales experts and honored top individuals and organizations that have made a significant impact to the Inside Sales profession during the past year in a variety of categories.
"The 2015 Leadership Summit provided a unique opportunity for our Inside Sales profession to come together to learn, network, and honor top providers, individuals, and service providers. It was an honor to recognize and present this exceptional group with their awards," said Bob Perkins, AA-ISP Founder and Chairman.
"The AA-ISP believes that people, not process, is an Inside Sales organization's most valuable resource. The individuals and organizations recognized are helping to advance and change our profession and it's an honor to celebrate with them and something I look forward to every year," stated AA-ISP CEO, Larry Reeves.
Awards Recipients Include:
Top 25 Most Influential Inside Sales Professionals
The AA-SP recognized the following individuals who have lead our industry and were nominated by their peers.

Lauren Bailey
Ralph Barsi
Trish Bertuzzi
Carolyn Betts
Mike Brooks
Chad Burmeister
Josiane Feigon
Dave Elkington
Kevin Gaither
Richard Harris
Ken Jisser
Shannon Johnson
Sean Kester
Ken Krogue
Kelly Litchenberger
Kelly Molander
Sean Murray
Matt Musial
Laurie Page
Kyle Porter
Mark Ruthfield
Lee Salz
Chad Sjursen
Jim Steele
Alex Turner
Annual Member Awards
The AA-ISP honored the following individuals and organizations for their outstanding contribution to Inside Sales.

Excellence in Execution (AA-ISP Chapter)- NY-NJ-CT Chapter
AA-ISP Chapter of the Year- Orange County
AA-ISP International Chapter of the Year- Ireland
Corporate Culture- Dave Brown, Fleetmatics
Spirit Award- Amy Appleyard, Staples Advantage
Innovator Award- Amyra Rand, Kareo
Excellence in Execution- Ken Jisser, Cedarcone
Executive of the Year- Regina Manfredi, PCM
AA-ISP Supporter of the Year- Chad Burmeister, ConnectAndSell
Lifetime Achievement- Bruce Church, Texas Research Alliance
Lifetime Achievement (awarded by the AA-ISP Advisory Board)- Larry Reeves, AA-ISP
AA-ISP Scholarship Program
The AA-ISP Scholarship Program recognizes AA-ISP Members and members of their immediate family who are pursuing a sales or business degree from an accredited college, university, or institution of higher education.

Andrew Bagley, Modern Marketing Concepts
Service Provider Awards
Each year, the AA-ISP recognizes the top service providers as nominated by users in the AA-ISP Service Provider Directory. 2015 Winners include:

Service Provider (Consulting)- The Bridge Group
Service Provider (Customer Service & Support)– Velocify
Service Provider (Leadership Development)– Factor 8 Training
Service Provider (Business Development Training)- VorsightBP
Service Provider (Sales Acceleration)- InsideSales.com
Service Provider (Outsourced Prospecting Services)– ConnectAndSell
A full list of 2015 award winners can be viewed on the AA-ISP Awards Page.
About the AA-ISP
The AA-ISP is an international association dedicated exclusively to advancing the profession of Inside Sales. The association engages in research studies, organizational benchmarking, and leadership roundtables to better understand and analyze the trends, challenges, and key components of the growth and development of the Inside Sales industry. Our mission is to help Inside Sales representatives and leaders to leverage our information and resources through published content, local community chapters, national conferences, career development, and an Inside Sales Accreditation program.
For more information on AA-ISP, please visit http://www.aa-isp.org or follow the company on Twitter @AA_ISP.