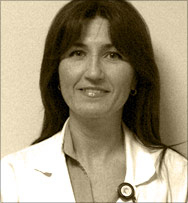 This journey had a great impact on my career.
Costa Mesa, CA (PRWEB) May 01, 2015
The Office of the President and School for Graduate and Professional Studies at Vanguard University are proud to announce Dr. Mariana Mogos, doctor of medicine at Keck Hospital of USC, as the 2015 Commencement student speaker.
Dr. Mogos came to Vanguard University's graduate program in psychology as a professor herself, who realized the need to know more about her patients' internal worlds. The graduate psychology program at Vanguard University immediately impacted her understanding of patient care and healing.
"It was her compassion for her patients that led Dr. Mogos to Vanguard University to pursue a master's degree in clinical psychology. She wanted to understand her patients beyond their medical condition," said Dr. Jerre L. White, director of graduate psychology and professor at Vanguard University. "Dr. Mogos demonstrates compassion for the hurting, respect for her colleague, and wisdom in integrating medicine, psychology and her faith."
Dr. Mariana Mogos earned her doctor of medicine in 1994 from the University of Medicine and Pharmacy at USC, where she later did her residency, fellowships and internships, from 1996-2000. She most recently held the spot of assistant professor of clinical anesthesiology at USC, and practices at Keck Hospital, as well as USC Norris Comprehensive Cancer Center and Hospital, in Los Angeles.
"This journey had a great impact on my career," said Dr. Mogos. "I have decided to delve into a new career in addiction medicine, where I can practice medicine and use my psychology degree, earned at Vanguard University."
Dr. Mogos will address the School for Graduate and Professional Studies graduates, and their friends and families at the graduation ceremony on Friday, May 8, 2015 at 4 p.m., held at Mariners Church in Irvine, California. She will receive a master of science degree in psychology.
There will also be a live video stream of both undergraduate and graduate ceremonies online at Vanguard's website: http://www.vanguard.edu/live. Closed Captioning will be available for the 4 p.m. ceremony. Join the social conversation by tweeting LIVE from the event using #VUGrad, and mention @VanguardU.
ABOUT VANGUARD UNIVERSITY
Vanguard University (VU) is a regionally ranked, private, Christian university of liberal arts and professional studies. Located ten minutes from Newport Beach and an hour from Los Angeles, Vanguard equips students for a Spirit-empowered life of Christ-centered leadership and service. Vanguard is committed to academic excellence, boasting small class sizes that are designed to cultivate lasting professor-mentor relationships that enhance the learning process. The U.S. News & World Report ranked Vanguard a top 12 regional college in the West and a top veteran-friendly college for 2015, and The Princeton Review ranked Vanguard a 2014 "Best in the West" regional college. Accredited by the WASC Senior College and University Commission, Vanguard offers more than 30 degrees and certificates through its undergraduate, graduate, and professional studies programs. Please visit http://www.vanguard.edu
###